IN VITRO EVALUATION OF ANTIMICROBIAL AND ANTIOXIDANT ACTIVITY OF CARICA PAPAYA L. SEEDS GROWN IN THE REPUBLIC OF YEMEN
Nabil Q. M. Al-Hajj

Dept. of Therapeutic Nutrition and Dietetics, College of Medicine and Health Science, University of Science and Technology, Sanaa, Yemen

https://orcid.org/0000-0003-3324-3933
Abstract
This study aimed to investigate the phytochemical, antimicrobial, and antioxidant activities of Carica papaya L. seeds extracts collected from Al Hudaydah city, Yemen (Latitude: 14°47′52″ N Longitude: 42°57′16″ E) during the months of January and February 2021.
The seed was extracted with different solvents by the cold percolation method. The disk diffusion method was employed to assess the antibacterial activity of the seed extract against six bacterial and four fungal strains. Spectrometric methods were employed to calculate the total alkaloids, anthocyanin, flavonoid, phenolic, quinones, saponin, steroids, terpenoid, tannin, and phenols contents, as well as the antioxidant activities.
Antibacterial and antifungal activity tests exhibited that the selected microorganisms are highly sensitive to the ethanolic and methanolic extracts of C. papaya L. seeds, followed by chloroform, water, and n-hexane extracts. The samples also demonstrated a significant DPPH, FRAP, and APTS radical scavenging activity. Additionally, the preliminary phytochemical analysis revealed the presence of flavonoid, terpenoid, saponin, alkaloids, steroids, quinones, anthocyanin, tannin, and phenols, all of which potentially contribute to the antimicrobial activities of C. papaya L. seeds.
Keywords:
Carica papaya seeds, Al- Hudaydah, Yemen, Antimicrobial, Antioxidant, Total phenolic, Phytochemical screening.
Downloads
Download data is not yet available.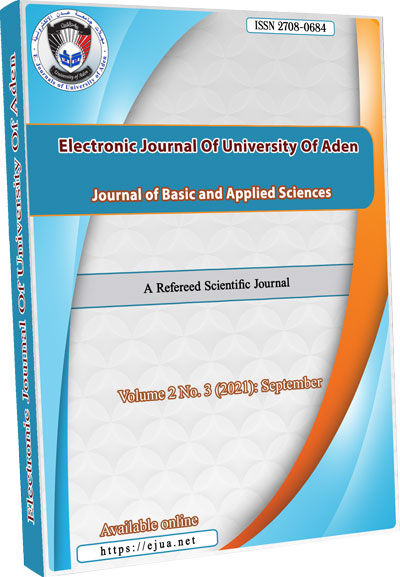 How to Cite
Al-Hajj, N. Q. M. (2021). IN VITRO EVALUATION OF ANTIMICROBIAL AND ANTIOXIDANT ACTIVITY OF CARICA PAPAYA L. SEEDS GROWN IN THE REPUBLIC OF YEMEN. Electronic Journal of University of Aden for Basic and Applied Sciences, 2(3), 93-102. https://doi.org/10.47372/ejua-ba.2021.3.103
Copyright (c) 2021 Nabil Q. M. Al-Hajj
This work is licensed under a Creative Commons Attribution-NonCommercial 4.0 International License.