STAPHYLOCOCCUS AUREUS RESISTANCE AGAINST CEPHALOSPORIN ANTIBIOTIC IN ADEN-YEMEN
Eman Abdo Ali

Dept. of Pharmaceutics, Faculty of Pharmacy, University of Aden, Yemen

Omniat N. M. Alshuaibi

Dept. of Pharmaceutical Chemistry, Faculty of Pharmacy, University of Aden, Yemen

Khaled S. A. Alsweedi

Dept. of Pharmaceutical Chemistry, Faculty of Pharmacy, University of Aden, Yemen
Abstract
The study was carried out to determine antibacterial resistance profiles of methicillin-resistant Staphylococcus aureus (MRSA), isolated from clinical samples (n: 352) of patients during the period, from January 2019 to July 2020 in five governmental and private medical laboratories of Aden governorate, Yemen. The results showed the percentage for resistance ratio is differentiated between samples and the category of cephalosporin antibiotic groups. The highest percentage of resistance was in the wound sample for Cefadroxil, Cefuroxime, and Ceftriaxone at (100%), in addition to 100% in the pus, CSF, and sputum samples for Ceftriaxone antibiotic. Moreover, Cefadroxil has 100 % of resistance in semen, ear, and sputum samples. However, the Staphylococcus aureus isolated from the pharyngeal sample not showed any resistance to all cephalosporin antibiotic groups.
Keywords:
Cephalosporin antibiotic, Staphylococcus aureus, Antibacterial resistance.
Downloads
Download data is not yet available.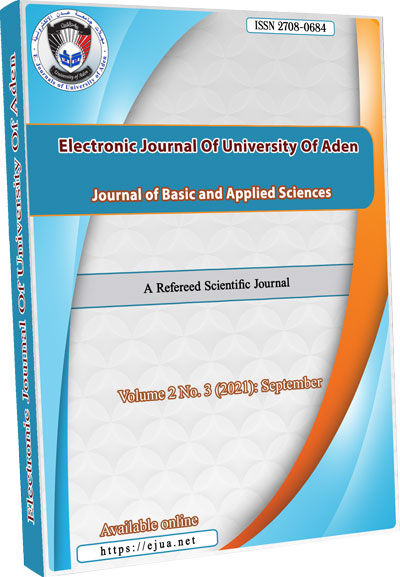 How to Cite
Ali, E. A., Alshuaibi, O. N. M., & Alsweedi, K. S. A. (2021). STAPHYLOCOCCUS AUREUS RESISTANCE AGAINST CEPHALOSPORIN ANTIBIOTIC IN ADEN-YEMEN. Electronic Journal of University of Aden for Basic and Applied Sciences, 2(3), 139-144. https://doi.org/10.47372/ejua-ba.2021.3.108
Copyright (c) 2021 Eman Abdo Ali, Omnia N. M. Alshuaibi, Khaled S. A. Alsweedi
This work is licensed under a Creative Commons Attribution-NonCommercial 4.0 International License.