Effect of Spray Licorice Extract (Glycyrrhiza Glabra L.) on Growth and Productivity of Onion (Allium Cepa L. Cv. Bafatiem)
Nora Mohammed Al-Saqaf Mohammed

Biology Dept. - Faculty of Education - Zingabar, University of Aden, Aden, Yemen

Othman Saad Saeed Al-Hawshabi

Biology Dept. - Faculty of Sciences, University of Aden, Aden, Yemen

Essam Ali Abdullah Sadaqa

Biology Dept. - Faculty of Education - Saber, University of Aden, Aden, Yemen
Abstract
This investigation was carried out during 2016/2017 to study the effect of spray extract Licorice (Glycyrrhiza glabra L.) on growth and Productivity and quality of onion (Allium cepa L. cv. Bafatiem). For this purpose field experiment was conducted in a farmer field in the village of Al-Wahat, Tuban district, Lahej governorate. The experiment consisted of 4 treatments: spraying licorice extract with three concentrations (5, 10, 15 g / L) in addition to the control. The results of the field experiment showed that all treatments of spraying gave the low values of plant, height comparing with control which gave the highest average plant height of 81.23 cm. Licorice extract spraying at 5g/L recorded the highest tuber blade number which reached to 20.47 blade/plant with significantly increased comparing with the control. Onion plants which treated with licorice spraying at 5g/L caused increasing in the leaves area which reached 17.67 cm2. Licorice extract spraying at 5g/L caused increasing in dry weight of total vegetative of 11% compared with control and rest treatments. Onion plants that were treated with licorice extract spraying at all concentrations caused increasing in bulb diameter and its height comparing with control. Spraying treatments of licorice at 5 g/L significantly increased bulb weight comparing with control and spraying 10g/L which recorded to 287 gm. Onion plants that were treated with licorice extract spraying at 5g/L significantly increased the yield to 59.7 ton/ha, compared with all other treatments and control.
Keywords:
Licorice extract, Onion, Concentration.
Downloads
Download data is not yet available.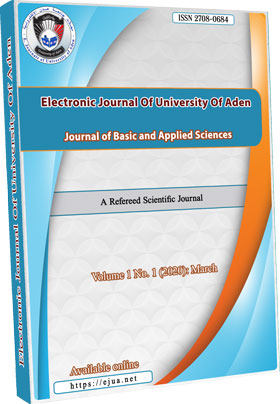 How to Cite
Mohammed, N. M. A.-S. ., Al-Hawshabi, O. S. S., & Sadaqa, E. A. A. (2020). Effect of Spray Licorice Extract (Glycyrrhiza Glabra L.) on Growth and Productivity of Onion (Allium Cepa L. Cv. Bafatiem). Electronic Journal of University of Aden for Basic and Applied Sciences, 1(1), 54-60. https://doi.org/10.47372/ejua-ba.2020.1.11
Copyright (c) 2020 Nora Mohammed Al-Saqaf Mohammed, Othman Saad Saeed Al-Hawshabi, Essam Ali Abdullah Sadaqa
This work is licensed under a Creative Commons Attribution-NonCommercial 4.0 International License.