THE PROTECTIVE AND THERAPEUTIC EFFECT OF CORN SILK EXTRACT ON UROLITHIATIC AND HYPERTENSIVE RATS INDUCED BY ETHYLENE GLYCOL
Abdulrhman A. Almadiy

Department of Biology, Faculty of Science and Arts, Najran University, Saudi Arabia

Afrah Ali Alasbahy

Department of Biology, Faculty of Science, Taiz University, Yemen

Hussein S. Gumaih

Department of Biology, Faculty of Science, Sanaa University, Yemen

E. S. Nasr

Department of Biology, Faculty of Science, Zagazig University, Egypt

Maher A. Al-Maktari

Department of Chemistry, Faculty of Science, Sanaa University, Yemen
Abstract
Renal stone is one of the most problems worldwide. They are affected by different factors such as environmental effectors such as nutrient as well as family history. Corn silk (CS) used as antiurolythiasis. This study investigated the impact of corn silk extract as the management of renal stone formation, hypertension, and hepatoprotective. This work has been carried out on rats at Faculty of science Sana'a University, University of Science, and Technology Laboratories. Twenty-four male albino rats with weighing range between (200 g to 250g) were taken. They were divided in four groups (each group consists of 6animals). The first group of rats took normal diet and named as negative control (Co) whereas, the second group took normal diet with ethylene glycol (EG) (0.75%) and 1% ammonium chloride (AC) for 28 days and serve as positive control (Po). The third and fourth groups took the same substances as inPo group with 200 mg/kg and 400 mg/kg of corn silk (CS) for 28 days respectively.
Blood samples were collected from rats on last day of the experiment. All the tested samples showed a significant antioxidant DPPH radical scavenging activity and a notifiable decrease in serum aldosterone hormone, angiotensin comforting enzyme urea and creatinine levels comparedto positive control. Shown to significantly increased AST, ALT, and LDH in comparison to the urolithiatic group and near of normal group.
In conclusion, the present study emphasizes the safe herbal remedies of CS as anti-hypertensive and antioxidants, as well as antiurolithiatic and hepatoprotective.
Keywords:
Urolithiasis, Hypertension, Corn silk and Ethylene glycol
Downloads
Download data is not yet available.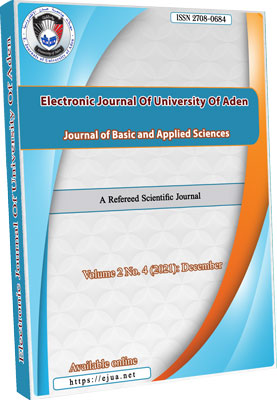 How to Cite
Almadiy, A. A., Alasbahy, A. A., Gumaih, H. S., Nasr, E. S., & Al-Maktari, M. A. (2021). THE PROTECTIVE AND THERAPEUTIC EFFECT OF CORN SILK EXTRACT ON UROLITHIATIC AND HYPERTENSIVE RATS INDUCED BY ETHYLENE GLYCOL. Electronic Journal of University of Aden for Basic and Applied Sciences, 2(4), 151-160. https://doi.org/10.47372/ejua-ba.2021.4.123
Copyright (c) 2021 Abdulrhman A. Almadiy, Afrah Ali Alasbahy, Hussein S. Gumaih, E. S. Nasr, Maher A. Al-Maktari
This work is licensed under a Creative Commons Attribution-NonCommercial 4.0 International License.