EFFECT OF MORINGA AND OLIVE LEAVES POWDER CONSUMPTION ON HYPERGLYCEMIC STATE IN TYPE 2 DIABETES MELLITUS (A PILOT STUDY)
Taha Abdo Ali Naji

Dept. of Medicine and Health Science, College of Medicine and Health Science, University of Science and Technology, Aden, Yemen
Abstract
Study showed effects of Moringa oleifera (MO) and Olea europaea (OE) leaves powder on lowering blood sugar levels in diabetes patients. The aims of this study were to determine the effect of MO and OE leaves powder on blood glucose control in therapy type 2 diabetes mellitus (T2DM).
Diabetic patients (160 with diet-controlled type 2 diabetes and 250 non-diabetic) healthy volunteers were asked to fast for 13 hours on three occasions. Blood glucose was measured before and after eating 100g of white carbohydrates (bread) (at 30, 60, 90, 120, 150 and 180 minutes). On their second and third study visits, they were given 1g and 2g respectively, of Moringa oleifera and Olea europaea leaves powder for 30 minutes after eating the bread.
Ingestion of Moringa oleifera (MO) and Olea europaea (OE) leaves powder had no effect on blood glucose in non-diabetic participants, but in diabetic patients, Moringa oleifera and Olea europaea powder reduced post-prandial glycaemia in diabetic patients. A larger study is needed to define the optimal dose and to assess whether this translates into longer-term benefits.
Keywords:
Moringa oleifera, Olea europaea, Type 2 diabetes, Clinical trial
Downloads
Download data is not yet available.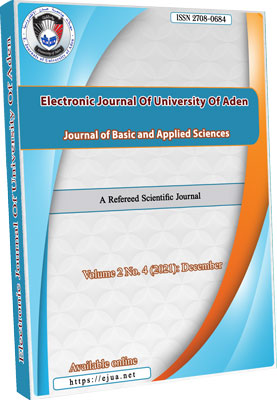 How to Cite
Naji, T. A. A. (2021). EFFECT OF MORINGA AND OLIVE LEAVES POWDER CONSUMPTION ON HYPERGLYCEMIC STATE IN TYPE 2 DIABETES MELLITUS (A PILOT STUDY). Electronic Journal of University of Aden for Basic and Applied Sciences, 2(4), 176-185. https://doi.org/10.47372/ejua-ba.2021.4.126
Copyright (c) 2021 Taha Abdo Ali Naji
This work is licensed under a Creative Commons Attribution-NonCommercial 4.0 International License.