EFFECT OF ONE-DAY-OLD CHICK'S WEIGHT ON GROWTH CHARACTERISTICS AND CARCASS CUTS OF BROILERS CHICK'S ROSS
Mazen Nasser Ali

Dept. of Animal Production, Collage of Nasser Science Agriculture, University of Aden, Yemen
Abstract
The experiment was conducted in the barn of the Department of Animal Production, Nasser College for Agricultural Sciences Lahij Governorate, during the period 28/1/2020 to 2/3/2020. The study targeted two weight categories of chicks. In the experiment, 90 unsexed one-day-old Ross chicks were used. These chicks were divided into. Two treatments based on weight. The first treatment T1, 45 chicks weighing 39-40 g, and the second treatment T2 also contained 45 chicks weighing 44-45 g. The chicks were divided into two groups that are, three replicates with 15 chicks for each replicate. T2 on treatment T1 and the weights were 15176.66, 1126.gm, 1643.33, 1193,33g for both body weight and carcass weight, respectively, while the results did not show any significant superiority in the amount of feed consumed, feed conversion factor, and dressing ratio. Treatment T2 showed a weight superiority over treatment T1 in the weight of the chest, thighs, back, and neck. The weights were 391, 310, 203.33, 78 g and 433, 316.67, 8, 225, 86.67 g, for treatment T1 and T2 respectively, and this increase did not reach the significant level.
Keywords:
Broiler chickens, One-day-old weight, Growth
Downloads
Download data is not yet available.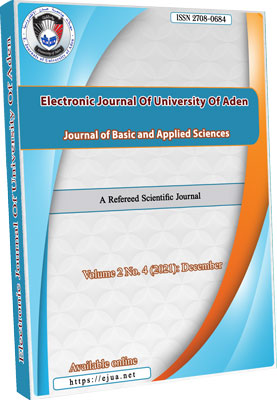 How to Cite
Ali, M. N. (2021). EFFECT OF ONE-DAY-OLD CHICK'S WEIGHT ON GROWTH CHARACTERISTICS AND CARCASS CUTS OF BROILERS CHICK'S ROSS. Electronic Journal of University of Aden for Basic and Applied Sciences, 2(4), 186-189. https://doi.org/10.47372/ejua-ba.2021.4.127
Copyright (c) 2021 Mazen Nasser Ali
This work is licensed under a Creative Commons Attribution-NonCommercial 4.0 International License.