OPTIMAL FORMULATIONS OF LOCAL FOODS TO ACHIEVE NUTRITIONAL ADEQUACY FOR 6-23-MONTH-OLD YEMENI CHILDREN
Nabil Q. M. Al-Hajj

Dept. of Therapeutic Nutrition and Dietetics, College of Medicine and Health Science, University of Science and Technology, Sana'a, Yemen

https://orcid.org/0000-0003-3324-3933

Abdullah Almikhlafy

Dept. of Society Medicine, College of Medicine and Health Science, University of Science and Technology, Sana'a, Yemen

Mansour Ghalib

Dept. of Therapeutic Nutrition and Dietetics, College of Medicine and Health Science, University of Science and Technology, Sana'a, Yemen

Methaq Algabr

Dept. of Chemistry, Laboratory of Chemistry, Faculty of Applied Sciences, University of Hajjah, P.O. Box 80004, Hajjah, Yemen

Sallah A. Al-Hashedi

Central Labs, King Faisal University, P.O. BOX 400, Al-Ahsa, Saudi Arabia
Abstract
Nearly 4.5 million children under the age of five in Yemen suffer from acute malnutrition due to the high prices of imported baby food. Therefore, there is an urgent need to prepare and manufacture local foods of nutritious quality, cheap and available locally, to allow Yemeni families to feed their children and achieve public health. Six food mixtures (F1-F6) were prepared and manufactured from local field crops based on teff flour, rice, sorghum, wheat, sweet potatoes and lentils.
The formations (Mixers) were roasted to improve the nutritive nutritional value and sensory attribute of formulated recipes. The protein level was calculated, fat, carbohydrates and mineral in all mixers using of Percentages. All the formulations were evaluated for their acceptability by trained panelists using a five point hedonic scale. Although, many formulations were found to be organoleptically acceptable recording moderately to extremely like scores, generally formulations F3 (Teff (15%), lentils (6.5%), sweet potatoes (18.5%), white corn (10%), wheat (30%) and rice (20%).) and F4 (Teff (30%), lentils (10%), sweet potatoes (10%), white corn (25%), wheat (13%) and rice (12%) were highly acceptable by panelists and scored significantly (P < 0.05) higher than the other formulated complementary foods. Their mean score ranged between 4.2 to 4.35 in terms of taste and general acceptability.
Keywords:
Sensory evaluation, Nutritional mixers, Yemen children, Local foods
Downloads
Download data is not yet available.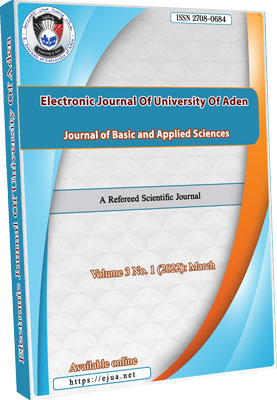 How to Cite
Al-Hajj, N. Q. M., Almikhlafy, A., Ghalib, M., Algabr, M., & Al-Hashedi, S. A. . (2022). OPTIMAL FORMULATIONS OF LOCAL FOODS TO ACHIEVE NUTRITIONAL ADEQUACY FOR 6-23-MONTH-OLD YEMENI CHILDREN. Electronic Journal of University of Aden for Basic and Applied Sciences, 3(1), 1-12. https://doi.org/10.47372/ejua-ba.2022.1.138
Copyright (c) 2022 Nabil Q. M. Al-Hajj, Abdullah Almikhlafy, Mansour Ghalib, Methaq Algabr, Sallah A. Al-Hashedi
This work is licensed under a Creative Commons Attribution-NonCommercial 4.0 International License.