KNOWLEDGE, ATTITUDE AND PRACTICE OF DENTAL STUDENTS TOWARDS HEPATITIS B INFECTION IN ADEN UNIVERSITY, YEMEN
Mohamed Hasan Alsakaf

Department of Conservative Dentistry, Faculty of Dentistry, University of Aden; Mobile: +967 772434577

Adel Jumaan Binsaad

Department of Microbiology, Faculty of Medicine, University of Aden; Mobile: +967 714071428
Abstract
Hepatitis B virus (HBV) infection is a major worldwide public health issue. The risk of exposure to HBV among healthcare workers (HCWs) is a major concern, especially among students in health professions. This is a cross-sectional survey, aimed to assess the knowledge, attitude, and practices toward HBV infection among dental students, using an administered questionnaire containing 2 sections. The first section for demographic characteristics and the second section contained 15 questions on knowledge of HBV (7 questions), attitude (3 questions), and practices (5 Questions) of HBV infection. Dental students in the third, fourth, and fifth years of Aden University were included in the study. Descriptive statistics like frequencies and proportions were used to summarize the data. A total of 308 dental students participated in the study. Of these, 50.3% were males and 49.7% were females.
A total of 77.2% of the students knew about the transmission and prevention of HBV infection. More than 75.0% of participants had a positive attitude towards preventive measures against HBV infection, and 78.2% of participants agreed that the HBV vaccine can prevent HBV infection. Only 0.97% of students were vaccinated against HBV infection and 53.9% of students knew about the postexposure treatment against HBV infection. The overall knowledge regarding HBV infection was found to be adequate among dental students. Dental students are at high risk of exposure to HBV infection owing to the low HBV vaccination rate. Therefore, dental students should be vaccinated prior to their entry into professional practices.
Keywords:
Hepatitis B virus, Practice, Knowledge, Vaccination, Dental students
Downloads
Download data is not yet available.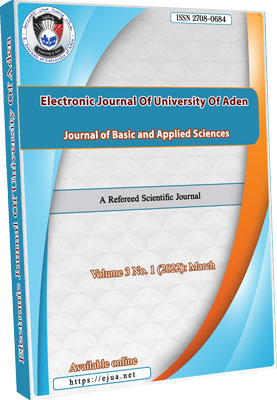 How to Cite
Alsakaf, M. H., & Binsaad, A. J. (2022). KNOWLEDGE, ATTITUDE AND PRACTICE OF DENTAL STUDENTS TOWARDS HEPATITIS B INFECTION IN ADEN UNIVERSITY, YEMEN. Electronic Journal of University of Aden for Basic and Applied Sciences, 3(1), 13-19. https://doi.org/10.47372/ejua-ba.2022.1.139
Copyright (c) 2022 Mohamed Hasan Alsakaf, Adel Jumaan Binsaad
This work is licensed under a Creative Commons Attribution-NonCommercial 4.0 International License.