ANTIFUNGAL ACTIVITIES OF SOME THERAPEUTIC DRUGS AND EXTRACTS OF ZIZIPHUS NUMMAULARIA AND CURCUMA DOMESTICA AGAINST DERMATOPHYTES
Salwa A. Y. Alolofi

Dept. of Microbiology and Molecular Biology, Faculty of Science and Technology, Al-Neelain University, Khartoum State, Sudan

https://orcid.org/0000-0002-7575-8954

Salwa Abdullah El-Tawaty

Dept. of Biomedical Science, Faculty of Pharmacy, Omer AL-Mukhtar University, Libya

Sanaa O. Yagoub

Dept. of Microbiology and Molecular Biology, Faculty of Science and Technology, Al-Neelain University, Khartoum State, Sudan

A. H. Nimir

Dept. of Microbiology, Faculty of Veterinary Medicine, Khartoum University, Sudan
Abstract
Dermatophytes are the most common causes of superficial or cutaneous fungal infections around the world and remain a major public health problem in spite of the presence of some numbers of antifungal drugs. The difficulties associated with the treatment of dermatophytosis and antifungal drugs resistance remain challenges to select an effective antifungal agents. This study aimed to investigate the activity of three antidermatophytic drugs in vitro (Clotrimazole, Itraconazole and Fluconazole) and the activity of the ethanol and chloroform extracts of two medicinal plant (Ziziphus nummaularia and Curcuma domestica). Fourteen species of dermatophytes were examined by disk diffusion method using Sabouraud's Dextrose Agar. The study revealed that, from the collected specimens, 180 (60%) of cases were positive for isolating of dermatophytes. Clotrimazole was the most effective antidermatophytic drug against the tested dermatophytes, it was clear that ethanol and chloroform extracts of Ziziphus nummaularia had the same activity of Clotrimazole against E. floccosum. Similarly the chloroform extract of Ziziphus nummaularia has the same activity of Itraconazole against M. nanum. The ethanol and chloroform extracts of both Ziziphus numalaria and Curcuma dometica showed more activity towards T. violaceum comparing with the three tested antifugal drugs. This study concluded that the antifungal activity of Ziziphus numalaria and Curcuma dometica against tested dermatophytes correlates well with the claims of their traditional uses for skin infections. However, further studies are needed to demonstrate the active ingredients that responsible for their inhibition of dermatophytes.
Keywords:
Dermatophytes, Antidermatophytic drugs, Medicinal plants, Ziziphus nummaularia, Curcuma domestica
Downloads
Download data is not yet available.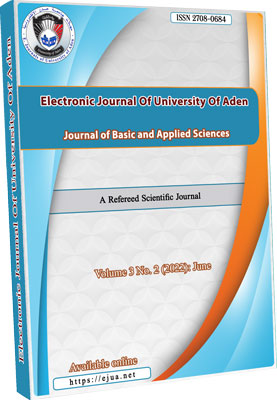 How to Cite
Alolofi, S. A. Y., El-Tawaty, S. A., Yagoub, S. O., & Nimir, A. H. (2022). ANTIFUNGAL ACTIVITIES OF SOME THERAPEUTIC DRUGS AND EXTRACTS OF ZIZIPHUS NUMMAULARIA AND CURCUMA DOMESTICA AGAINST DERMATOPHYTES. Electronic Journal of University of Aden for Basic and Applied Sciences, 3(2), 48-56. https://doi.org/10.47372/ejua-ba.2022.2.152
Copyright (c) 2022 Salwa A. Y. Alolofi, Salwa Abdullah El-Tawaty, Sanaa O. Yagoub, A. H. Nimir
This work is licensed under a Creative Commons Attribution-NonCommercial 4.0 International License.