BLACK SEEDS (NIGELLA SATIVA LINN.) AS NATURAL FEED ALTERNATIVE IN POULTRY PRODUCTION
Mohammed A. Al-Sanabani

Dept. of Animal Production, Faculty of Agriculture, University of Sana'a, Yemen

Shaif A. Al-Hothaify

Dept. of Livestock Research, Agriculture Research and Extension Authority, Yemen
Abstract
A black seeds (Nigella sativa Linn.) is a medicinal and herbal plant with a rich historical background that has attracted many investigators to study and explore its potential effects. BSs contain essential components for the growth such as amino acids, vitamins and minerals and active substances. The main active ingredients are volatile oils, alkaloids, saponin and sterols. The major components of volatile oils are thymoquinone followed by dithymoquinone, thymohydroquinone and thymol. It has a great medicinal properties including, antioxidant, anti-inflammatory, immune-modulatory, antibacterial, appetite stimulant, anti-diarrheal, and as a parasitic remedy. BSs have been used as feed additive in livestock feeding program as a replacement for antibiotic drugs and numerous studies have been carried out to examine the effects of BSs on broiler and layer birds and the results indicated to potential effects to stimulate immunity and upgrade the production performance and economic efficiency of the birds.
Keywords:
Black seed, Feed additive, Poultry, Production performance, Immunity
Downloads
Download data is not yet available.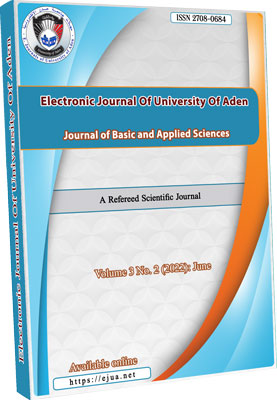 How to Cite
Al-Sanabani, M. A., & Al-Hothaify, S. A. (2022). BLACK SEEDS (NIGELLA SATIVA LINN.) AS NATURAL FEED ALTERNATIVE IN POULTRY PRODUCTION. Electronic Journal of University of Aden for Basic and Applied Sciences, 3(2), 75-83. https://doi.org/10.47372/ejua-ba.2022.2.155
Copyright (c) 2022 Mohammed A. Al-Sanabani, Shaif A. Al-Hothaify
This work is licensed under a Creative Commons Attribution-NonCommercial 4.0 International License.