MOTHERS KNOWLEDGE, ATTITUDE AND PRACTICES REGARDING ACUTE RESPIRATORY INFECTION IN CHILDREN UNDER FIVE YEARS/ URBAN AND RURAL AREAS - AL MUKALLA CITY-2022
Maysa Saeed Al-Noban

Dept. of Public Health and Community Medicine, Faculty of Medicine and Health sciences. Aden University, Yemen

Mustafa Khidir Elnimeiri

Dept. of Community Medicine, Al Neelain University, Khartoum, Republic of Sudan
Abstract
Management and prevention of acute respiratory tract infections are directly linked to the mother's knowledge and attitude, which can be translated into practice and employed as a disease prevention intervention.
A community-based cross- sectional study was conducted in the urban and rural area locality in Al Mukalla, Hadhramout Governorate/ Yemen. Five hundred eighty-one mothers were selected randomly used Random Walk Method who had a child aged <5 years. Data were collected using a pre-tested interviewer-administered questionnaire. SPSS version 20 was used for data entry and analysis.
In a study of 581 mothers, 52.3 % of urban mothers were knowledgeable of ARI. About a third of mothers were knowledgeable that chest indrawing and rapid breathing are dangerous signs of infection, and this knowledge was high among urban mothers. In relation of mothers' attitudes about antibiotic use, positive attitudes were found to be prevalent among urban mothers (78.4%), while negative attitudes were prevalent among rural mothers (88.7 %). Urban mothers were more likely to use antibiotics without a prescription and to not complete the course (59 % and 57.7%, respectively), whereas rural mothers were more likely to use home remedies (61.3 %).
The study reveals good knowledge and positive attitude among urban mothers towards ARI than rural mothers, but this good knowledge did not translate into good practice towards use of antibiotics by rational way.
Keywords:
Acute respiratory tract infections, Attitude, Knowledge, Mothers, Practice, Urban, Rural
Downloads
Download data is not yet available.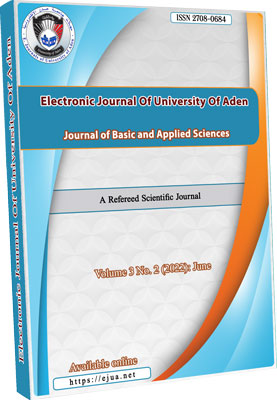 How to Cite
Al-Noban, M. S., & Elnimeiri, M. K. (2022). MOTHERS KNOWLEDGE, ATTITUDE AND PRACTICES REGARDING ACUTE RESPIRATORY INFECTION IN CHILDREN UNDER FIVE YEARS/ URBAN AND RURAL AREAS - AL MUKALLA CITY-2022. Electronic Journal of University of Aden for Basic and Applied Sciences, 3(2), 93-100. https://doi.org/10.47372/ejua-ba.2022.2.157
Copyright (c) 2022 Maysa Saeed Al-Noban, Mustafa Khidir Elnimeiri
This work is licensed under a Creative Commons Attribution-NonCommercial 4.0 International License.