ASSESSMENT OF THE LEVEL OF PHYSICOCHEMICAL AND MICROBIOLOGICAL CONTAMINATION OF GROUNDWATER IN PARTS OF BIR NASSER AND BIR AHMED WATER FIELDS IN TUBAN DELTA IN ADEN AND LAHEJ GOVERNORATES - YEMEN
Shaif Mohamed Kasem Saleh

Dept. of Chemistry, Faculty of Science, University of Aden, Yemen

Abdulhq Mohamed Ahmed Al-Sallami

Dept. of Chemistry, Faculty of Education-Toor-Albaha, University of Lahj, Yemen
Abstract
The objective of this study is to assessed the of groundwater pollution, in some of  Bir Nasser and Bir Ahmed waters fields, in Tuban delta, which are considered as the main sources of drinking water and household purposes for consumers in Aden Governorate. In this study, 20 groundwater samples have been collected from the fields of Bir Nasser and Bir Ahmed, in the period from February until July 2021. The evaluation of groundwater quality in the study area was based on 19 parameters such as: Temperature (T), Turbidity, Hydrogen Ion Concentration (pH), Electrical Conductivity (EC), Total Dissolved Solid(TDS), Total hardness(TH), Total Alkalinity (TA), Calcium(Ca2+), Magnesium (Mg2+), Sodium (Na+1), Potassium (K+1), Iron (II) (Fe2+), Sulfates (SO42-), Chloride (Cl-), Fluoride (F-), Nitrate (NO3-), Nitrite (NO2-), Total Coliform (TC) and Fecal Coliform (FC). Groundwater suitability for a drink and domestic purposes was compared with the World Health Organization specifications (WHO 2004) and the Yemen's ministry of water and environment standards (YMWE,1999). The results showed that most of the physical, chemical and biological parameters are higher than the permissible limit by (WHO 2004), with the exception of pH and nitrite, which were found below the standard limit. Reasons for the high parameters values of some study areas were the presence of the investigated wells near the population centers that use cesspits to dispose of waste water, as well as the closeness of the wells to the agricultural lands that use chemical and animal fertilizers, in addition to random drilling of wells, and excessive pumping for groundwater. Therefore, there is a need for appropriate treatment measures before the consumption of these waters by the populace to avoid long term accumulated health problems of these pollutants.
Keywords:
Physiochemical properties, Groundwater, Bir Ahmed, Bir Nasser, Tuban delta basin, Lahej, Aden
Downloads
Download data is not yet available.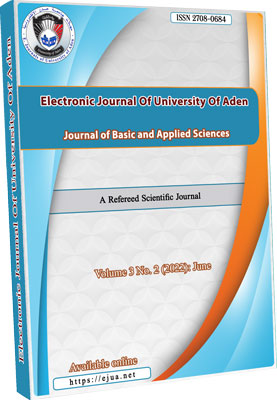 How to Cite
Saleh, S. M. K., & Al-Sallami, A. M. A. (2022). ASSESSMENT OF THE LEVEL OF PHYSICOCHEMICAL AND MICROBIOLOGICAL CONTAMINATION OF GROUNDWATER IN PARTS OF BIR NASSER AND BIR AHMED WATER FIELDS IN TUBAN DELTA IN ADEN AND LAHEJ GOVERNORATES - YEMEN. Electronic Journal of University of Aden for Basic and Applied Sciences, 3(2), 101-116. https://doi.org/10.47372/ejua-ba.2022.2.158
Copyright (c) 2022 Shaif Mohamed Kasem Saleh, Abdulhq Mohamed Ahmed Al-Sallami
This work is licensed under a Creative Commons Attribution-NonCommercial 4.0 International License.