SEROPREVALENCE OF CYTOMEGALOVIRUS AMONG PREGNANT WOMEN IN AD-DHALE'E CITY - YEMEN
Adel Jumaan Awadh Binsaad

Dept. of Microbiology and Parasitology, Faculty of Medicine and Health Sciences, University of Aden, Yemen

Arafat Abdo Taleb

Dept. of Microbiology and Parasitology, Faculty of Dentistry, University of Aden, Yemen
Abstract
This study aimed to determine the seroprevalence of Cytomegalovirus virus (CMV) infection among pregnant women in Ad Dhale'e city, Yemen. A cross-sectional study was conducted among 130 pregnant women attended for routine antenatal care in Al-Nasser hospital in Ad-Dhale'e city. Serum was obtained and tested for seropositivity of CMV IgG and IgM using electro-chemiluminescence immunoassays  (ECLIA) test. Of 130 blood sample, 122 (93.8 %) and 5 (3.8%) were identified with CMV IgG and CMV IgM seropositive respectively. While, 8 (6.2%) were seronegative (susceptible) to CMV infection. Statistically significant association (P< 0.05) was found between CMV IgG seropositivity and age. This study concluded that there was high seroprevalence of cytomegalovirus infections among pregnant women in Ad-Dhale'e city. Routine antenatal screening of pregnant women for CMV infection should be considered. Further studies with more sample size using advanced methods is recommended.
Keywords:
Cytomegalovirus, Seroprevalence, Congenital infection, Ad Dhale'e City
Downloads
Download data is not yet available.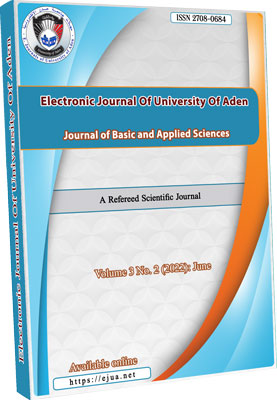 How to Cite
Binsaad, A. J. A., & Taleb, A. A. (2022). SEROPREVALENCE OF CYTOMEGALOVIRUS AMONG PREGNANT WOMEN IN AD-DHALE'E CITY - YEMEN. Electronic Journal of University of Aden for Basic and Applied Sciences, 3(2), 117-123. https://doi.org/10.47372/ejua-ba.2022.2.159
Copyright (c) 2022 Adel Jumaan Awadh Binsaad, Arafat Abdo Taleb
This work is licensed under a Creative Commons Attribution-NonCommercial 4.0 International License.