INVENTORY AND CHARACTERIZATION OF TERRESTRIAL VERTEBRATES IN THE DISTRICT OF HAIFAN, TAIZ GOVERNORATE, YEMEN
Waheed Mohammed Alsarory

Dept. of biology, Faculty of Education - Tohar Albaha, University of Lahj, Yemen
Abstract
This study aims to identify and characterize terrestrial vertebrates in Haifan District, Taiz Governorate - Republic of Yemen. Haifan District is located in the southeast of Yemen and is characterized by a biodiversity rich in the presence of terrestrial vertebrates. The study revealed 32 terrestrial vertebrate species belonging to three classes: 1- Amphibians with one order (Anura), two families, two genera, and only two species. 2- Reptiles with one order related to 10 families, 14 genera, and 20 species. 3- Mammals with five orders, belonging to ten families, 10 genera, and 10 species. The results also showed that 29 of these species are within the most stable assessment (LC) in the criteria of IUCN. In contrast, 3 species are placed within the criteria of (DD) assessment according to the IUCN Red List. This study also showed that twenty species suffer from the risk of extinction (EN) and twelve species are close to the threat of extinction (TN) according to the Yemeni Red List.
Keywords:
Inventory, Characterization, Terrestrial Vertebrates, Haifan, Taiz, Yemen
Downloads
Download data is not yet available.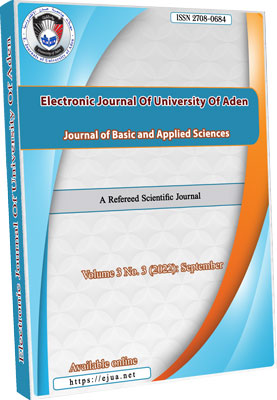 How to Cite
Alsarory, W. M. (2022). INVENTORY AND CHARACTERIZATION OF TERRESTRIAL VERTEBRATES IN THE DISTRICT OF HAIFAN, TAIZ GOVERNORATE, YEMEN. Electronic Journal of University of Aden for Basic and Applied Sciences, 3(3), 152-157. https://doi.org/10.47372/ejua-ba.2022.3.180
Copyright (c) 2022 Waheed Mohammed Alsarory
This work is licensed under a Creative Commons Attribution-NonCommercial 4.0 International License.