ISOLATION AND ANTIMICROBIAL SUSCEPTIBILITY PROFILES OF MICROORGANISMS CAUSING URINARY TRACT INFECTION AMONG PATIENTS IN ADEN CITY, YEMEN
Khaled N. Q.

Dept. of Biology, Faculty of Science, University of Aden, Yemen

Alaa A. M.

Dept. of Biology, Faculty of Science, University of Aden, Yemen

Amal K. A.

Dept. of Biology, Faculty of Science, University of Aden, Yemen

Amira Q. M.

Dept. of Biology, Faculty of Science, University of Aden, Yemen

Fatima A. A.

Dept. of Biology, Faculty of Science, University of Aden, Yemen

Kholood W. A.

Dept. of Biology, Faculty of Science, University of Aden, Yemen

Marwa N. M.

Dept. of Biology, Faculty of Science, University of Aden, Yemen

Rasha H. A.

Dept. of Biology, Faculty of Science, University of Aden, Yemen

Shifa S. M.

Dept. of Biology, Faculty of Science, University of Aden, Yemen
Abstract
Urinary tract infection is an infection that usually affects all people around the world, regardless of gender and ages. Therefore, the present study aimed to isolate microorganisms causing urinary tract infection and their antimicrobial susceptibility profiles among patients attending some private hospitals in Aden city, Yemen.
A total of 78 specimens of midstream urinary were collected from patients presenting in some private hospitals and centers located in Aden - Yemen, during the period from January to August 2021. Urine samples were examined macroscopically and microscopically. Also, the samples were cultured in different media and then incubated aerobically for 18-24 h at 37°C. The bacteria were isolated and diagnosed, and then the bacterial isolates were examined and their sensitivity to antibiotics, using the disc diffusion method (Kirby-Bauer).
Of the 78 samples, 57 (73.08%) were positive for the growth of pathogenic bacteria, 3 (3.85%) fungi, while 3 (3.85%) were negative and 15 samples were discarded for incomplete data. A higher rate of isolates was obtained from negative 33 (55%) compared to positive bacteria 24 (40%). The of infection in females was 48 (55%), while the number of males was 12 (20%). The highest infection recorded was Streptococcus agalactiae 12/57 (21%), followed by Pseudomonas aeruginosa 9 (15.7%), then Enterococcus faecalis, Enterobacter aerogenes and Escherichia coli each 6 (10.5%). The highest sensitivity of 94.7% was recorded by the antibiotics levofloxacin and ciprofloxacin. But the isolated Gram-negative bacteria showed a sensitivity of 100%. Gram-negative bacteria showed moderate sensitivity against tetracycline 58%, gentamicin 42% and ceftriaxone 45.5%. While lower sensitivity rates were observed for Co-Trimoxazole 31.6%, Cefotaxime 15.8%, and Ampicillin/Sulbactam 15.8%. Cephalexin, linezolid and cloxacillin have demonstrated complete resistance to the antibiotics used. There is a high prevalence of bacterial UTIs among women. Levofloxacin is the most effective antibiotic in treating UTIs, followed by amikacin, ofloxacin and ciprofloxacin. Ampicillin / Sulbactam, Co-trimoxazole, Cefotaxime, Tazobactam / Pipracillin. It is considered the most resistant antibiotic of bacteria isolated from urinary tract infection.
The results confirmed the resistance of the isolated urinary tract bacteria to some of the antibiotics used in our study. Accordingly, we recommend our doctors to take into consideration the developments in the use of antibiotics and resistance by bacteria.
Keywords:
Streptococcus agalactiae, Pseudomonas aeruginosa, Urinary tract infection
Downloads
Download data is not yet available.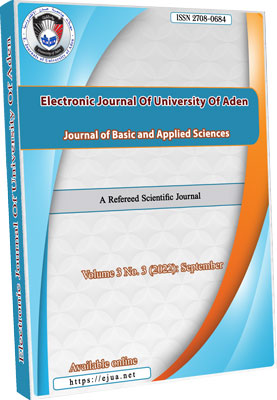 How to Cite
Q., K. N., Alaa A. M., Amal K. A., Amira Q. M., Fatima A. A., Kholood W. A., Marwa N. M., Rasha H. A., & Shifa S. M. (2022). ISOLATION AND ANTIMICROBIAL SUSCEPTIBILITY PROFILES OF MICROORGANISMS CAUSING URINARY TRACT INFECTION AMONG PATIENTS IN ADEN CITY, YEMEN. Electronic Journal of University of Aden for Basic and Applied Sciences, 3(3), 163-175. https://doi.org/10.47372/ejua-ba.2022.3.182
Copyright (c) 2022 Khaled N. Q., Alaa A. M., Amal K. A., Amira Q. M., Fatima A. A., Kholood W. A., Marwa N. M., Rasha H. A., Shifa S. M.
This work is licensed under a Creative Commons Attribution-NonCommercial 4.0 International License.