PREVALENCE AND EFFECT OF ASCARIS LUMBRICOIDES, ENTEROBIUS VERMICULARIS AND HYMENOLEPIS NANA ON THE ACCOMPANYING BLOOD PICTURE IN IBEN KOLDOON HOSPITAL, LAHAJ- YEMEN
Khaled Nasher Qhatan Salem

Microbiology Section Dept. of Biology, Faculty of Science, University of Aden, Yemen

Hawazen Ali Mohammed Soroor

Zoology Section Dept. of Biology, Faculty of Education, University of Aden, Yemen
Abstract
Intestinal parasitic infections, are the most common infections worldwide. Various epidemiological studies in Yemen and the neighboring countries, indicate that the prevalence of intestinal parasites is high, especially in developing countries.
This study was aims to investigate the prevalence of infection with Intestinal Parasites Worms (IPW), Ascaris lumbricoides, Enterobius vermicularis and Hymenolepis nana and its impact on the blood picture among patients attending Ibn Khaldoon hospital in Lahaj governorate - Yemen.
A cross-sectional study was conducted from October 2019 to October 2020, to assess the prevalence of infection parasites worms (IPW) and associated risk factors. This study included 645 patients from both sexes and different ages. Stool samples were examined microscopically using direct wet-mount, formal-ether concentration techniques and Saturated sodium chloride floatation technique. We analyzed the blood picture of the infected and uninfected people and focused on the three pictures of white blood cells (WBC), hemoglobin (Hb) and eosinophil (E). A structured questionnaire, was used to obtain information regarding the associated risk factors. Data were analyzed using SPSS version 20.
The results showed that (94.88%) were positive and 33 cases (5.12%) were negative. And among the (94.88%) positive cases, (59,53%) cases were positive with intestinal helminthes (IH). The infection rate for males (47.65%) cases and for females (42.97%) cases, and the statistical analysis showed a significant difference at the level of significance (P<0.05). Also, some hematological parameters of the blood picture taken from the patients showed significant differences compared to the control group, where the level of (Hb) decreased (10.19 g/dL) and a slight increase in the number of (WBC) 6990 cells/mm3 and a rise in (E) cells 671.74). cell/mm3.
In conclusion, the necessity of spreading health education among members of the community and showing the danger of infection with IPW in particular and parasites in general. In relation with blood picture examinations showed a statistically significant difference (P=0.00) in the three age groups. Where the values of WBC 8.49 Mean and (E) 11.174 Mean were more elevated in the first age group, while they decreased in the second and third age groups, while the level of Hb was the most low (8.420 Mean). In the first, second and third age groups.
Keywords:
Intestinal parasitic worms, White blood cells, Eosinophil, Hemoglobin, Blood picture
Downloads
Download data is not yet available.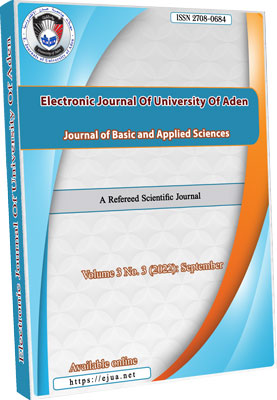 How to Cite
Salem, K. N. Q., & Soroor, H. A. M. (2022). PREVALENCE AND EFFECT OF ASCARIS LUMBRICOIDES, ENTEROBIUS VERMICULARIS AND HYMENOLEPIS NANA ON THE ACCOMPANYING BLOOD PICTURE IN IBEN KOLDOON HOSPITAL, LAHAJ- YEMEN. Electronic Journal of University of Aden for Basic and Applied Sciences, 3(3), 222-233. https://doi.org/10.47372/ejua-ba.2022.3.189
Copyright (c) 2022 Khaled Nasher Qhatan Salem, Hawazen Ali Mohammed Soroor
This work is licensed under a Creative Commons Attribution-NonCommercial 4.0 International License.