THE EFFECT OF ADDING A PROBIOTIC TO DRINKING WATER ON THE PERFORMANCE OF BROILERS UNDER THE CONDITIONS OF THE HOT SUMMER SEASON
Omar Abdul Majead Salam

Dept. of Animal Production, Nasser College of Agricultural Sciences, University of Lahj, Yemen

Osan Mohammed Saleh Hassan

Dept. of Animal Production, Nasser College of Agricultural Sciences, University of Lahj, Yemen
Abstract
The experiment was conducted in the poultry house at Nasser College of Agricultural Sciences, University of Aden, during the period from 7/8/2021 to 11/8/2021 A.D. in order to know the effect of adding a probiotic (0, 50, 100 mg/l water) under hot summer conditions. In the experiment, 108 R0SS broilers were used, and they were randomly distributed into three treatments, with 36 broilers for each treatment and three replicates for each treatment and 12 broilers for each replicate. The results indicated that there were no significant differences between the different treatments in most of the studied traits (feed consumption rate, feed conversion factor, mortality rate, productivity per square meter of live weight), but there was a better improvement in the treatments of probiotic addition. While it was noticed that the addition of the probiotic was significant at the probability level (P<0.05) in the body weight and the rate of weight gain.
Keywords:
Probiotics, Productive performance, Broilers, Summer season
Downloads
Download data is not yet available.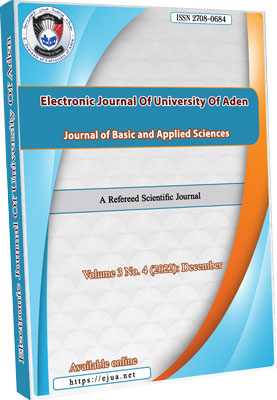 How to Cite
Salam, O. A. M., & Hassan, O. M. S. (2022). THE EFFECT OF ADDING A PROBIOTIC TO DRINKING WATER ON THE PERFORMANCE OF BROILERS UNDER THE CONDITIONS OF THE HOT SUMMER SEASON. Electronic Journal of University of Aden for Basic and Applied Sciences, 3(4), 248-252. https://doi.org/10.47372/ejua-ba.2022.4.193
Copyright (c) 2023 Omar Abdul Majead Salam, Osan Mohammed Saleh Hassan
This work is licensed under a Creative Commons Attribution-NonCommercial 4.0 International License.