ROLE OF NON-CONTRAST MAGNETIC RESONANCE ANGIOGRAPHY IN THE DIAGNOSIS OF THE ATHEROSCLEROTIC LESIONS OF THE EXTRACRANIAL CAROTID ARTERIES
Ahmed Awadh Bahomail

Dept. of Paraclinic, Faculty of Medicine and Health Sciences, University of Aden, Yemen

Buthaina Saeed Ahmed Alaghbari

Dept. of Paraclinic, Faculty of Medicine and Health Sciences, University of Aden, Yemen

Khaldoon Ali Salem Hitham

Dept. of Surgery, Faculty of Medicine and Health Sciences, University of Aden, Yemen
Abstract
Formation of atherosclerotic plaque in the carotid arteries is the leading factor of hemodynamic disturbance in the cere-bral arteries. Visualization and characteristic of these plaques are most important factors from the viewpoint of preven-tive treatment- surgical or conservative. The goal of this study was to assess sensitivity and specificity of non-contrast MRA in evaluation and characteristics of atherosclerotic plaques in the extracranial carotid arteries. Our data was ob-tained from 130 patients: 38 were female (29.2%) and 92-male (70.8%). The middle age is 54.8 years (range 17-78 years).  Patients were subjected to 3 diagnosis procedures, namely 85 patients were investigated by Doppler USG & 45 patients by MRA method. All patients underwent selective cerebral arterial angiography by DSA as a gold standard method. From 130 patients 27 patients had no atherosclerotic disease; 57 had bilateral atherosclerotic changes; 46 pa-tients had monolateral carotid atherosclerotic process. From 260 investigated carotid arteries 51 arteries were detected with complete occlusion (22 right and 21 left occlusion), in 4 patients (8 carotid arteries) bilateral occlusion was seen. 54 carotid arteries had severe degree of stenosis. From this stenosis 27 arteries were more than 90%.32 carotid arteries had moderate degree of stenosis. In 23 carotid arteries mild degree was seen, but in a 100 carotid arteries had complete pa-tency. We concluded that complex noninvasive methods- colored Doppler USG and non-contrast MRA distinguished good accuracy (90%) and may be used as an alternative to DSA.
Keywords:
Magnetic resonance angiography (MRA), Ccarotid arteries, Digital Subtraction angiography (DS), Doppler Ultrasonography (USG)
Downloads
Download data is not yet available.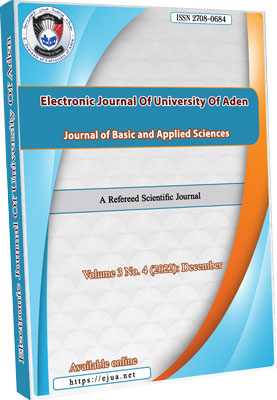 How to Cite
Bahomail, A. A., Alaghbari, B. S. A., & Hitham, K. A. S. (2022). ROLE OF NON-CONTRAST MAGNETIC RESONANCE ANGIOGRAPHY IN THE DIAGNOSIS OF THE ATHEROSCLEROTIC LESIONS OF THE EXTRACRANIAL CAROTID ARTERIES. Electronic Journal of University of Aden for Basic and Applied Sciences, 3(4), 253-262. https://doi.org/10.47372/ejua-ba.2022.4.194
Copyright (c) 2023 Ahmed Awadh Bahomail, Buthaina Saeed Ahmed Alaghbari, Khaldoon Ali Salem Hitham
This work is licensed under a Creative Commons Attribution-NonCommercial 4.0 International License.