PREVALENCE OF ENTAMOEBA HISTOLYTICA AND GIARDIA LAMBLIA AMONG PATIENTS ATTENDING SOME HOSPITALS IN AL-MANSSORA DIRECTORATE, ADEN – YEMEN
Arwa Mohammed Mohammed Al-mansup

Dept. of Biology, Dr. Amin Nasher Higher Institute for Health Sciences, Aden, Yemen

Khaled Nasher Qahtan Salem

Dept. of Biology, Faculty of Science, University of Aden, Yemen
Abstract
This study was conducted from October 2019 to October 2020.To determine the prevalence of Entamoeba histolytica and Giardia lamblia among patients attending some hospitals (22 May Hospital, Cuban Hospital, Al-Naqeeb Hospital, Al Salam Hospital) in Al-manssora Directorate, Aden - Yemen. This study included 603 patients. Stool samples were obtained from all participants and laboratory conducted using a direct mount preparation with physiological normal saline (0.9%) and iodine stain. The results of the current study showed that the overall prevalence rate was 384/603 (63.68%). The prevalence of E. histolytica and G. lamblia was higher among males (33.34%) than that in female (30.34%). The prevalence rate of these parasites was higher in the age group between 20-67 years old (36.31%), followed by the age group (10-19) years. The study concluded that the prevalence of Entamoeba histolytica and Giardia lamblia among diarrheal patients in Al-manssora Directorate, Aden – Yemen was high
Keywords:
Entamoeba histolytica, Giardia lamblia, Intestinal protozoa
Downloads
Download data is not yet available.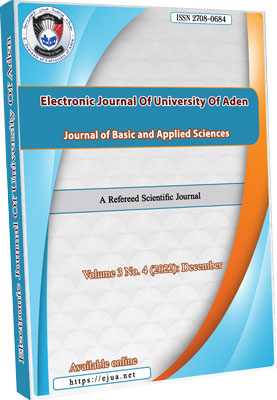 How to Cite
Al-mansup, A. M. M., & Salem, K. N. Q. (2022). PREVALENCE OF ENTAMOEBA HISTOLYTICA AND GIARDIA LAMBLIA AMONG PATIENTS ATTENDING SOME HOSPITALS IN AL-MANSSORA DIRECTORATE, ADEN – YEMEN. Electronic Journal of University of Aden for Basic and Applied Sciences, 3(4), 263-275. https://doi.org/10.47372/ejua-ba.2022.4.195
Copyright (c) 2023 Arwa Mohammed Mohammed Al-mansup, Khaled Nasher Qahtan Salem
This work is licensed under a Creative Commons Attribution-NonCommercial 4.0 International License.