THE EFFECT OF DIFFERENT SOURCES OF DRINKING WATER ON THE PERFORMANCE OF BROILERS
Nasser Ahmed Mohamed Jamba

Dept. of Soil and Water, Nasser College of Agricultural Sciences, University of Lahj, Yemen

Mazen Nasser Ali

Dept. of Animal Production, Nasser College of Agricultural Sciences, University of Lahj, Yemen
Abstract
The experiment was carried out in the barn of Nasser College of Agricultural Sciences, University of Lahij, 27/1/2022 to 2/3/2022 to study the effect of drinking water sources on the performance of broiler chickens. In the experiment, 135 unsexed chicks of the ROSS breed were divided into three treatments, according to the water sources., Each treatment was divided into three replicates, with 15 chicks for each replicate. The results of the research showed the effect of water sources significantly (P<0.05) where the treatment T3 outperformed the two treatments T1 and T2 in body weight, carcass weight, feed conversion factor, dressing ratio, breast weight, percentage of breast and gizzard weight. Water sources did not affect the amount of feed consumed and the amount of water consumed.
Keywords:
Broiler chickens, Drinking water sources, Performance
Downloads
Download data is not yet available.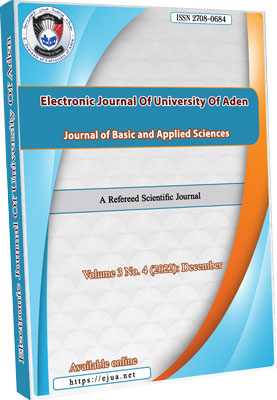 How to Cite
Jamba, N. A. M., & Ali, M. N. (2022). THE EFFECT OF DIFFERENT SOURCES OF DRINKING WATER ON THE PERFORMANCE OF BROILERS. Electronic Journal of University of Aden for Basic and Applied Sciences, 3(4), 322-326. https://doi.org/10.47372/ejua-ba.2022.4.202
Copyright (c) 2023 Nasser Ahmed Mohamed Jamba, Mazen Nasser Ali
This work is licensed under a Creative Commons Attribution-NonCommercial 4.0 International License.