PREFORMULATION STUDY OF CEFTRIAXONE AND CIPROFLOXACIN FOR LIPID BASED DRUG DELIVERY SYSTEMS
Mahmoud M. Alburyhi

Dept. of Pharmaceutics and Industrial Pharmacy, Faculty of Pharmacy, Sanaa University, Sanaa, Yemen

Abdalwali A. Saif

Dept. of Pharmaceutics and Industrial Pharmacy, Faculty of Pharmacy, Sanaa University, Sanaa, Yemen

Randa M. Saif

Dept. of Pharmaceutics, Faculty of Pharmacy, Aden University, Aden, Yemen
Abstract
Several tests should be performed to rule out any potential physical or chemical interactions between the active pharmaceutical ingredient and the various excipients that might be utilized in the manufacturing of the drug formula. Fourier Transform infrared spectroscopy is a simple technique for the detection of changes within excipient-drug mixtures. In addition to speeding up the aging process of drugs and their possible interactions with excipients, isothermal stress testing was achieved. In this study, Ceftriaxone sodium (CTX), and Ciprofloxacin hydrochloride (CIPRO) as active ingredients were subjected to several tests to exclude any interaction with the excipients that could be used in the formulation of lipid base biodegradable antibiotic for prevention of post-operative infection. The compatibility was tested by using Fourier Transform infrared spectroscopy (FT-IR) and isothermal stability testing (IST). As a result, the IR spectral interpretation showed that the spectra obtained from the binary mixtures match the original spectra of API. Generally, there was no obvious and influential change of any characteristic peaks which confirms the absence of chemical interaction between the CTX or CIPRO and excipients. In the IST, the API – excipient mixture shows no significant change in physical properties. There was no change in color, gas formation, and liquefaction of the mixture stored under stress conditions.  There was no significant change in the amount of API after storage in stressed conditions at statistical significance (p = 0.05). In conclusion, there are no notable interactions between API and the various excipients that could be employed to create biodegradable lipid-based delivery systems that are effective at preventing post-operative infection.
Keywords:
Pre-formulation, Ceftriaxone, Ciprofloxacin, Lipid base biodegradable, Spectra of API
Downloads
Download data is not yet available.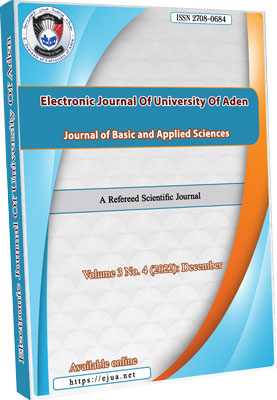 How to Cite
Alburyhi, M. M., Saif, A. A., & Saif, R. M. (2022). PREFORMULATION STUDY OF CEFTRIAXONE AND CIPROFLOXACIN FOR LIPID BASED DRUG DELIVERY SYSTEMS. Electronic Journal of University of Aden for Basic and Applied Sciences, 3(4), 339-350. https://doi.org/10.47372/ejua-ba.2022.4.204
Copyright (c) 2023 Mahmoud M. Alburyhi, Abdalwali A. Saif, Randa M. Saif
This work is licensed under a Creative Commons Attribution-NonCommercial 4.0 International License.