CLINICAL FEATURES AND HEMATOLOGICAL PARAMETERS IN SOME CHIKUNGUNYA PATIENTS, YEMEN
Eman Abdo Ali

Pharmaceutis department, Faculty of Pharmacy, University of Aden, Aden, Yemen

Khaled Saeed Ali

Pharmaceutical Chemistry, Faculty of Pharmacy, University of Aden, Aden, Yemen

Riad Mohamed Alsubaihi

Internal medicine department, Faculty of Medicine, University of Aden, Aden, Yemen
Abstract
During march – May 2020, chikungunya (CHIK), an arboviral infection, has spread throughout the all area of Aden and Lahj governorate, infecting thousands of people.
The study investigated haematological parameters and Clinical features of CHIK virus infected patients attending outpatient clinic at Al-shafa and Algamaheer medical center, Aden and Lahj, Yemen. 50 selected patients within the age of 14- 60 years were involved in the study according to the clinical features. The most common feature of the CHIKV infection was arthralgia and high fever. Other clinical manifestations reported as, headache, joint pain, redness of joints , swelling of joints vomiting and Fatigue Blood samples were collected and analyzed using Sysmex automated haematology analyzer for CBC test.Results showed the emergence of lymphopenia (15.7 ± 6.18%) , neutrophils (73.8 ± 6.98%) and the complete white blood cell (WBC) counts was 4.8 ± 1.4 103/μL in patients. The platelets (PLT) counts ranged from 92-244 103/μL (mean: 160 ± 47.4x103/μL). The hemoglobin decreased in 30 % of cases and was about (10 ± 1.2 g/dl) in children. By day 5 of illness the neutrophil and lymphocyte count had recovered to normal range, but the arthralgia and joint pain was continued for weeks. In addition of Clinical features, the neutrophils and lymphopenia was the main hematological indices of CHIK, in lack of CHIK antigen detection
Keywords:
Chikungunya, Clinical Features, Hematological Parameters
Downloads
Download data is not yet available.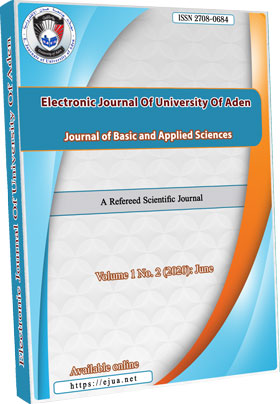 How to Cite
Ali, E. A., Ali, K. S., & Alsubaihi, R. M. (2020). CLINICAL FEATURES AND HEMATOLOGICAL PARAMETERS IN SOME CHIKUNGUNYA PATIENTS, YEMEN. Electronic Journal of University of Aden for Basic and Applied Sciences, 1(2), 100-104. https://doi.org/10.47372/ejua-ba.2020.2.24
Copyright (c) 2020 Eman Abdo Ali, Khaled Saeed Ali, Riad Mohamed Alsubaihi
This work is licensed under a Creative Commons Attribution-NonCommercial 4.0 International License.