NEW METHODS FOR DETERMINATION OF AMBROXOL HYDROCHLORIDE IN PURE FORM AND FARMACEUTICAL FORMULATIONS BASED ON SPECTROPHOTOMETRY
Mohamed Ahmed Saleh Al-Lahji

Dept. of Chemistry, Faculty of Science, Cairo University, Giza, Egypt

Yousry Mostafa Issa

Dept. of Chemistry, Faculty of Science, Cairo University, Giza, Egypt

Hussien Mohamed Abddel-fattah

Dept. of Chemistry, Faculty of Education - Zingibar, University of Aden, Yemen
Abstract
The proposed methods are simple, rapid, and accurate, used for the determination of Ambroxol Hydrochloride (AMB.HCl). There were two methods, the First method included chromotrope 2R, chromotrope 2B, arsenazo I, ASPANDS, and chromotrope 2C for the determination of AMB.HCl in its pure and pharmaceutical forms. The first method is based on the drug oxidation with Potassium permanganate in excess. The unreacted potassium permanganate was determined by measuring the absorbance of colored chromotropic acid azo dyes namely chromotrope 2R, chromotrope 2B, arsenazo I, SPADNS, and chromotrope 2C. The suitable ƛmax were 500, 510, 500, 510, and 520 nm, respectively. Under optimized conditions, Beer's Law showed good correlation and obeyed in the concentration range 1.51-7.46, 0.82-4.97, 1.65-6.63, 0.82-6.63, and 1.73-8.29 µg mL-1 for chromotrope 2R, chromotrope 2B, arsenazo I , SPADNS, and chromotrope 2C. The apparent molar absorptivity, Sandell sensitivity, LOD, and LOQ were calculated. Pure and pharmaceutical forms containing AMB.HCl were analyzed and tested for the validity of the proposed methods. The Second method spectrophotometric titration is based on the determination of unreacted potassium permanganate using spectrophotometric titration against ferrous ammonium sulfate, where the end-point was detected spectrophotometrically using ferrion indicator at 510 nm, the Relative standard deviation where 0.23-2.04 with average recovery 100.35-103%.
Keywords:
Spectrophotometry, Ambroxol hydrochloride, Oxidation-reduction reaction, Chromotropic acid azo dyes
Downloads
Download data is not yet available.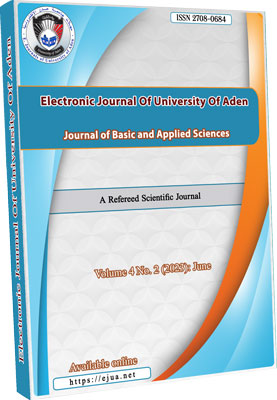 How to Cite
Al-Lahji, M. A. S., Issa, Y. M., & Abddel-fattah, H. M. (2023). NEW METHODS FOR DETERMINATION OF AMBROXOL HYDROCHLORIDE IN PURE FORM AND FARMACEUTICAL FORMULATIONS BASED ON SPECTROPHOTOMETRY. Electronic Journal of University of Aden for Basic and Applied Sciences, 4(2), 155-164. https://doi.org/10.47372/ejua-ba.2023.2.246
Copyright (c) 2023 Mohamed Ahmed Saleh, Yousry Mostafa Issa and Hussien Mohamed Abddel-fattah
This work is licensed under a Creative Commons Attribution-NonCommercial 4.0 International License.