ASSESSMENT OF ANTIBIOTICS RESISTANCE AND BIOFILM PRODUCTION AMONG BACTERIAL SPECIES ISOLATED FROM CONTACT LENSES
Eidha Bin-Hameed

Dept. of Health Sciences, Faculty of Medicine and Health Sciences, University of Science and Technology, Aden, Yemen

Abdul-Aziz Bin-Beishr

Dept. of Health Sciences, Faculty of Medicine and Health Sciences, University of Science and Technology, Aden, Yemen

Abdul-Raheem Shames

Dept. of Health Sciences, Faculty of Medicine and Health Sciences, University of Science and Technology, Aden, Yemen

Fatima Al-Salimy

Dept. of Health Sciences, Faculty of Medicine and Health Sciences, University of Science and Technology, Aden, Yemen

Husam Habtoor

Dept. of Health Sciences, Faculty of Medicine and Health Sciences, University of Science and Technology, Aden, Yemen

Mohammed Habtoor

Dept. of Health Sciences, Faculty of Medicine and Health Sciences, University of Science and Technology, Aden, Yemen

Noha Al-assar

Dept. of Health Sciences, Faculty of Medicine and Health Sciences, University of Science and Technology, Aden, Yemen

Omar Al-amodi

Dept. of Health Sciences, Faculty of Medicine and Health Sciences, University of Science and Technology, Aden, Yemen
Abstract
Contact lenses (CLs) wearing has been increased globally during recent decades, which is one of the main risk factors for developing several ocular infections. Resistant CLs bacterial infections are mainly due to the CLs contamination by bacteria producing biofilm. This study was aimed to assessment of antibiotics resistance and biofilm production among bacterial species isolated from contact lenses in Mukalla city, Hadhramout, Yemen. This cross-sectional study was carried out on 298 participants women during a period from October 2022 to January 2023. The CLs swab samples were collected, then inoculated onto culture media and incubated aerobically at 37°C for 24 hrs. The bacterial isolates were identified by conventional bacteriological methods of cultural characteristics, Gram staining and biochemical test. Antibiotics susceptibility testing was performed by disc diffusion method. Bacterial biofilm production on CLs was detected by tube method (TM) and Congo red agar (CRA) method. The prevalence of CLs bacterial infection was 54.4%. Enterobacter spp. 37.1%, followed by Escherichia coli 28.4%, Pseudomonas aeruginosa 11.7%, Klebsiella pneumoniae 6.8% were the most common Gram-negative isolated from CLs. Staphylococcus epidermides 3.7% and other coagulase negative staphylococci (CoNS) 12.3% were the most common species of Gram-positive bacteria isolated from CLs. The CRA method was found to be effective phenotypic screening method for detection of biofilm production of bacterial isolates from CLs. Prevalence of antibiotics resistance and multi-drug resistance (MDR) biofilm producing strains was found. In conclusion, there is a high prevalence of CLs use by females in Mukalla city, Hadhramout especially for cosmetic purposes. CLs infection due to improper care practices leads to eye complications. Increasing awareness is crucial to avoid identified risk factors for ocular infection.
Keywords:
Contact lenses, Biofilm production, Antibiotics resistance, Bacterial species
Downloads
Download data is not yet available.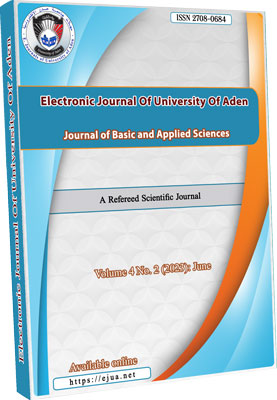 How to Cite
Bin-Hameed, E., Bin-Beishr, A.-A., Shames, A.-R., Al-Salimy, F., Habtoor, H., Habtoor, M., Al-assar, N., & Al-amodi, O. (2023). ASSESSMENT OF ANTIBIOTICS RESISTANCE AND BIOFILM PRODUCTION AMONG BACTERIAL SPECIES ISOLATED FROM CONTACT LENSES. Electronic Journal of University of Aden for Basic and Applied Sciences, 4(2), 199-208. https://doi.org/10.47372/ejua-ba.2023.2.252
Copyright (c) 2023 Eidha Bin-Hameed, Abdul Aziz Bin Beishr, Abdul Raheem Shames, Fatima Al-Salimy, Husam Habtoor, Mohammed Habtoor, Noha Al-assar, and Omar Al-amodi
This work is licensed under a Creative Commons Attribution-NonCommercial 4.0 International License.