THE RATE OF ASYMPTOMATIC THROAT CARRIAGE OF STREPTOCOCCUS PYOGENES AND ITS ASSOCIATED RISK FACTORS AMONG MEDICAL STUDENTS OF QUEEN ARWA UNIVERSITY IN SANA'A CITY, YEMEN
Nasser Mohammad Al-Aomary

Medical Microbiology and Immunology Department, Faculty of Medicine and Health Sciences, Sana'a University, Yemen

Wadhah Hassan Edrees

Medical Microbiology Department, Faculty of Applied Sciences, Hajjah University, Yemen

https://orcid.org/0000-0002-7799-0466

Bashir Ahmed Al-Ofairi

Microbiology/Biological Sciences, Faculty of Sciences, Sana'a University, Yemen

Lutf Mohammed Alrahabi

Dental Department, Faculty of Medical Sciences, Queen Arwa University, Yemen
Abstract
The throat carriage of Streptococcus pyogenes could play a crucial role in the transmission of infection to households and community settings. In Yemen, there is no information about S. pyogenes throat carriage among university students. This study aimed to find out the rate of asymptomatic throat carriage of Streptococcus pyogenes and its associated risk factors among medical students at Queen Arwa University in Sana'a City, Yemen. This cross-sectional study was conducted at Queen Arwa, between December 2022 and April 2023. A total of 300 throat swabs were randomly collected from medical university students. Streptococcus pyogenes was isolated and identified using standard bacteriological procedures. Additionally, the required data were obtained by using the designed questionnaire. Out of 300 specimens, 5 (1.7%) were positive for S. pyogenes throat carriage. The high rate of S. pyogenes was among females (2%), the age group of 25–30 years (8.3%), dental students (3.9%), and those who studied at the third level (3.7%). Additionally, the high rate of carriage was among those whose fathers' were in the trading field (3.7%) and whose mothers were housewives (2%), whose fathers and mothers held a university certificate (2.9%) and primary school (6.5%), respectively, with a low income (12.5%), none of their families have a sore throat (2.1%), or a history of hospitalization (3.2%). There was a relatively low rate of S. pyogenes throat carriage in healthy medical students compared with international investigations. Standard precautions such as adequate hand and respiratory hygiene and avoiding overcrowded settings are used to prevent and control the transmission of GAS infections.
Keywords:
Asymptomatic, Medical students, Streptococcus pyogenes, Throat carriage, Sana'a, Yemen
Downloads
Download data is not yet available.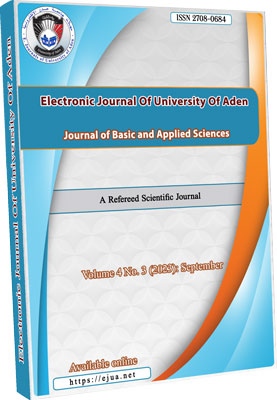 How to Cite
Al-Aomary, N. M., Edrees, W. H., Al-Ofairi, B. A., & Alrahabi, L. M. (2023). THE RATE OF ASYMPTOMATIC THROAT CARRIAGE OF STREPTOCOCCUS PYOGENES AND ITS ASSOCIATED RISK FACTORS AMONG MEDICAL STUDENTS OF QUEEN ARWA UNIVERSITY IN SANA'A CITY, YEMEN. Electronic Journal of University of Aden for Basic and Applied Sciences, 4(3), 216-225. https://doi.org/10.47372/ejua-ba.2023.3.271
Copyright (c) 2023 Nasser Mohammad Al-Aomary, Wadhah Hassan Edrees, Bashir Ahmed Al-Ofairi, Lutf Mohammed Alrahabi
This work is licensed under a Creative Commons Attribution-NonCommercial 4.0 International License.