ERYTHROCYTES COUNTS AND MORPHOLOGY OF ACANTOCERCUS ADRAMITANUS AND CHAMELEO CALYPTRATUS CALYPTRATUS FROM YEMEN
Yaser H. A. Obady

Dept. of Biology, Faculty of Applied Science, University of Taiz, Taiz, Yemen

Ola A. A. Alareeqi

Dept. of Biology, Faculty of Applied Science, University of Taiz, Taiz, Yemen
Abstract
The aim of this study was to determine the erythrocyte and nucleus morphology of Acantocercus adramitanus and Chameleo  calyptratus calyptratus from Yemen by means of blood smears stained with Giemsa stain. The longest and largest erythrocytes and their nucleus were observed in the smears of C.  c. calyptratus, while the narrowest and smallest in A. adramitanus. In terms of the studied species, the nucleus and erythrocyte sizes were found to be correlated. No significant difference between two species lizard's in erythrocyte count was determined. The relationship between the raw erythrocyte measurements and erythrocyte length was determined as positive correlation.
Keywords:
Yemen, Blood smears, Erythrocyte and nucleus morphology.
Downloads
Download data is not yet available.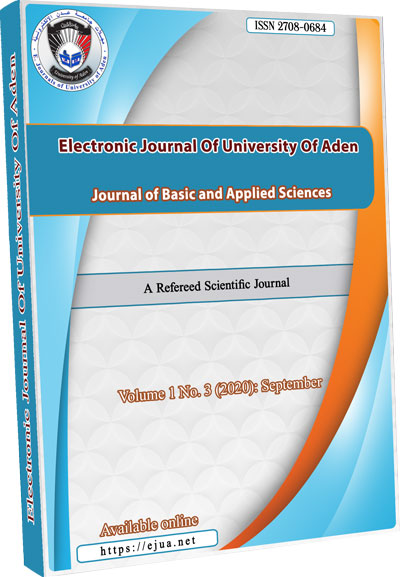 How to Cite
Obady, Y. H. A., & Alareeqi, O. A. A. (2020). ERYTHROCYTES COUNTS AND MORPHOLOGY OF ACANTOCERCUS ADRAMITANUS AND CHAMELEO CALYPTRATUS CALYPTRATUS FROM YEMEN. Electronic Journal of University of Aden for Basic and Applied Sciences, 1(3), 167-174. https://doi.org/10.47372/ejua-ba.2020.3.40
Copyright (c) 2020 Yaser H. A. Obady, Ola A. A. Alareeqi
This work is licensed under a Creative Commons Attribution-NonCommercial 4.0 International License.