Evaluation of Some Hematological and Serological Changes in Dengue Patients of Lahj-Yemen
Manal Mohamed AL-Samadi

Biology Department - Faculty of education, University of Aden, Aden, Yemen

Khaled Saeed Ali

Pharmaceutical Chemistry department - Faculty of Pharmacy, University of Aden, Aden, Yemen
Abstract
The present study aimed to evaluate the changes in WBC and platelet count and detection of NS1 antigen, IgM and IgG antibodies in dengue patients. There were 103 confirmed cases of dengue including 49(47.6%) females and 54(52.4%) males. The WBC count was less than (2000 /μl) in 16 cases and was ranging between (2000-4000 /μl) in 44 cases. The platelets count decreased to <50000/μl in 4 (3.9%) of cases, <100,000/μl (50,000- 100,000/μl) in 14 (13.6%) of cases, and were between (100000-150000/ul) in 12 cases. About 83 (80.6%) patients were positive NS1 antigen, and 4 (3.9%) patients had IgM antibodies against dengue. Remaining 16 (15.5%) had both IgM and IgG antibodies against dengue. The identification of NS1 antigen, WBC and platelet count can be used as predictors of dengue infection.
Keywords:
Dengue Fever, serology, WBC count, PLT count.
Downloads
Download data is not yet available.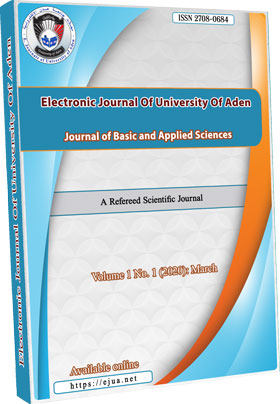 How to Cite
AL-Samadi, M. M., & Ali, K. S. (2020). Evaluation of Some Hematological and Serological Changes in Dengue Patients of Lahj-Yemen. Electronic Journal of University of Aden for Basic and Applied Sciences, 1(1), 25-29. https://doi.org/10.47372/ejua-ba.2020.1.7
Copyright (c) 2020 Manal Mohamed AL-Samadi, Khaled Saeed Ali
This work is licensed under a Creative Commons Attribution-NonCommercial 4.0 International License.