EFFECT OF AQUEOUS CRUDE EXTRACT OF ALOE VACILLANS LEAVES ON INDUCED HEPATIC DAMAGE IN MALE RABBITS
Mohammed Ali Qassem

Faculty of Dentistry, University of Aden, Aden, Yemen
Abstract
This study was designed to evaluate the effects of aqueous extract of Aloe vacillans leaves juice on carbon tetrachloride (CCl4)- induced hepatotoxicity in rabbits. Hepatotoxicity was induced in rabbits by intraperitoneal injection of (CCl4) at dose l ml/kg on day 7 and 8.
The aqueous crude extract of Aloe vacillans leaves was administrated at dose 100 mg,300 mg and 500 mg/kg of body weight pass orally (p.o) daily for 8 days. The hepatotoxicity and its prevention were assessed by serum parameters like alanine aminotransferase (ALT), aspartate aminotransferase (AST), bilirubin (Bil) and total protein (T.P).
In CCl4 treated rabbits, a significant, increasing the ALT, AST, bilirubin and decreasing the Total protein levels were shown (p<0.05), due to liver damage, when compared with the normal group.
Treatment with the aqueous extract of Aloe vacillans could significantly decrease the (ALT), (ALT) and bilirubin, increased T.P in serum at p< 0.05 when compared with CCl4 –treated group
The data concluded that oral administration of aqueous extract of the leaves of Aloe vacillans significantly decreases the intensity of hepatic damage induced by CCl4 in rabbits.
Keywords:
Carbon tetrachloride, Alanine aminotransferase (ALT), Aspartate aminotransferase (AST), Total Protein (T.P), Bilirubin (Bil), Hepatic damage, Rabbits.
Downloads
Download data is not yet available.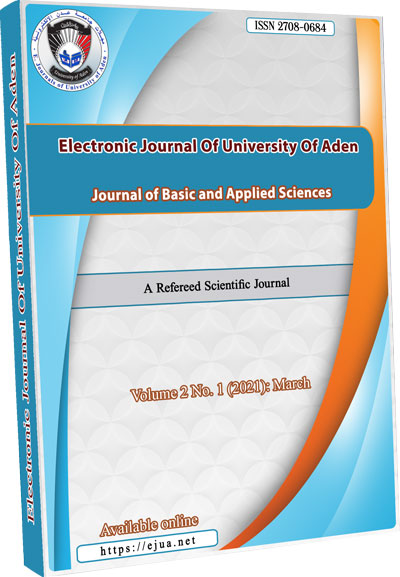 How to Cite
Qassem, M. A. (2021). EFFECT OF AQUEOUS CRUDE EXTRACT OF ALOE VACILLANS LEAVES ON INDUCED HEPATIC DAMAGE IN MALE RABBITS. Electronic Journal of University of Aden for Basic and Applied Sciences, 2(1), 01-06. https://doi.org/10.47372/ejua-ba.2021.1.83
Copyright (c) 2021 Mohammed Ali Qassem
This work is licensed under a Creative Commons Attribution-NonCommercial 4.0 International License.