EVALUATION OF SOME ANTIBIOTIC RESISTANCE IN STAPHYLOCOCCUS AUREUS ISOLATED BY MEDICAL LABORATORIES ADEN, YEMEN
Eman Abdo Ali

Dept. of Pharmaceutics, Faculty of Pharmacy, University of Aden, Yemen

Omniat N. M. Alshuaibi

Dept. of Pharmaceutical Chemistry, Faculty of Pharmacy, University of Aden, Yemen

Khaled Saeed Ali

Dept. of Pharmaceutical Chemistry, Faculty of Pharmacy, University of Aden, Yemen
Abstract
The study was carried out to determine antibacterial resistance profiles of methicillin-resistant Staphylococcus aureus (MRSA) isolates from clinical samples of patients during the duration, from January 2019 to July 2020 in five governmental and private medical laboratories of Aden governorate, Yemen. A total of 267 MRSA isolates were tested with a disc diffusion method from 4 clinical specimens. The isolates were examined for methicillin resistance using vancomycin, erythromycin, amikacin, and gentamicin.
The results revealed a large number of MRSA isolates showed resistance to erythromycin (43.5%) and Vancomycin (28%). A lower number of MRSA isolates showed resistance to amikacin (6.25%), gentamicin (11.75%). A majority of MRSA isolates were from urine specimen (162) followed by (56) wounds, (34) pus, and (25) semen specimens. The highest proportion of MRSA isolates were obtained from Al-medina medical laboratory (31%) and Alborg laboratory (24%).
Keywords:
Antibiotic, Resistant, Staphylococcus aureus.
Downloads
Download data is not yet available.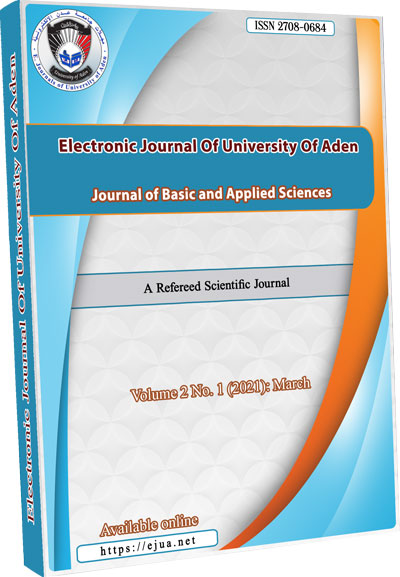 How to Cite
Ali, E. A., Alshuaibi, O. N. M., & Ali, K. S. (2021). EVALUATION OF SOME ANTIBIOTIC RESISTANCE IN STAPHYLOCOCCUS AUREUS ISOLATED BY MEDICAL LABORATORIES ADEN, YEMEN. Electronic Journal of University of Aden for Basic and Applied Sciences, 2(1), 49-53. https://doi.org/10.47372/ejua-ba.2021.1.89
Copyright (c) 2021 Eman Abdo Ali, Omniat N. M. Alshuaibi, Khaled Saeed Ali
This work is licensed under a Creative Commons Attribution-NonCommercial 4.0 International License.