EFFECT OF HONEY ON BLOOD SUGAR LEVEL AND LIPIDS METABOLISM IN MALE RABBITS
Ebtisam Yassin Shikoo

Department of Biology, Faculty of Education, University of Aden, Aden, Yemen

Bakeel Fadhel Hussein Salem

Department of Biology, Faculty of Education, University of Aden, Aden, Yemen
Abstract
The present work was done to investigate the ability of Yemeni Sider honey to ameliorate the level of blood sugar and lipid profile in rabbits. For this goal 36 rabbits were used, after adaptation period the animals were divided into 6 groups as follows: group 1 and 2 served as control, and other 4 groups were served as treatment groups. Metformin was used as comparison in alloxan –induced diabetic rabbits. After the end of experiment (day 27) our results showed stabilization of sugar level and lipid profile,cholesterol HDL, LDL and triglycerides. We concluded that the use of honey in addition to metformin is more effective and ability of this drug in dealing with the metabolism of carbohydrates and fats.
Keywords:
Diabetes mellitus, Lipid profile, Blood sugar.
Downloads
Download data is not yet available.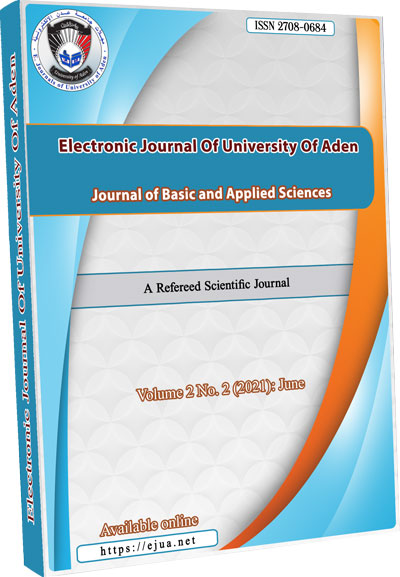 How to Cite
Shikoo, E. Y., & Bakeel, B. F. H. (2021). EFFECT OF HONEY ON BLOOD SUGAR LEVEL AND LIPIDS METABOLISM IN MALE RABBITS. Electronic Journal of University of Aden for Basic and Applied Sciences, 2(2), 87-92. https://doi.org/10.47372/ejua-ba.2021.2.94
Copyright (c) 2021 Ebtisam Yassin Shikoo, Bakeel Fadhel Hussein Bakeel
This work is licensed under a Creative Commons Attribution-NonCommercial 4.0 International License.