THE AVAILABILITY OF COGNITIVE SKILLS IN THE REQUEST OF THE DEPARTMENT OF MATHEMATICS AT FACULTY OF EDUCATION RADFAN
Adel Al-Mas

Faculty of education - Radfan, University of Aden, Yemen

Nasser Al-shaybah

Faculty of education - Shabwah, University of Aden, Yemen
Abstract
The aim of This Study was to reveal the level of metacognitive thinking amongst students of mathematics at faculty of education, Radfan-University of Aden and its relation to both achievement and the level of education and sex. The sample of the study consisted of (56) students: (28) males and (28) females, distributed over the four years of the Bacherlor of science. The researchers used the descriptive method for appropriating the research. To achieve the aim of the study. the researchers have arranged meta cognitive thinking scale. The results of the study revealed that metacognitive was average. And that there is a relationship of correlation statistical significance between the level of metacognitive thinking and achievement, The main recommendations:
- Attending of arising the level of metacognive with Faculty of Education Radfan students.
- Increasing academic knowledge level for students and joining it with different thinking skills.
Keywords:
Metacognition, Metacognitive skills, Thinking skills.
Downloads
Download data is not yet available.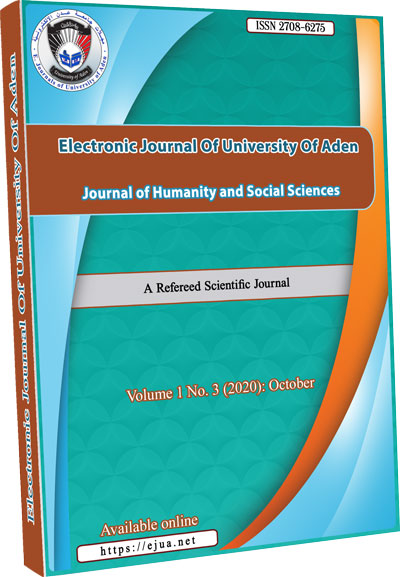 How to Cite
Al-Mas, A., & Al-shaybah, N. (2020). THE AVAILABILITY OF COGNITIVE SKILLS IN THE REQUEST OF THE DEPARTMENT OF MATHEMATICS AT FACULTY OF EDUCATION RADFAN. Electronic Journal of University of Aden for Humanity and Social Sciences, 1(3), 195-204. https://doi.org/10.47372/ejua-hs.2020.3.43
Copyright (c) 2020 Adel Al-Mas, Nasser Al-shaybah
This work is licensed under a Creative Commons Attribution-NonCommercial 4.0 International License.