THE ROLE NATURAL RESOURCES IN DEVELOPING THE AREA BETWEEN ARAQAH AND SHUQURAH, ABYAN GOVERNORATE, YEMEN
Mohammed Salem Mohammed

Department of geography, Faculty of Education-saber, University of Aden, Yemen

Ali Sheikh Ali Lahmer

University of Aden, Yemen
Abstract
This study aims to study the natural resources for developing the area that is located on the southern coast of Yemen between Raas shuqurah in Abyan governorate in the west and Raas Araqah in shabwa governorate in the East. The length of this area is about 225kilometre on coastline of Aden Gulf which lies between longitudes 45.30 degree and 47.58 degree east and between latitudes 13.20 degree and 14.21 degree north. Many communities spread at this coastline; the main ones are Shuqurah, Ahwar and Araqah. This area is considered as good place for investment and development because it has many elements that can be exploited like the natural elements which include agricultural activities, fishing and the avaitability of mining resources. In addition, tourism and roads network are other elements that can be exploited. The importance of this study lies in getting the authorities realize the importance of this area and the possibility to carry out investment projects in it.
Keywords:
Natural resources, Development, coastal areas between Araqah and Shuqurah.
Downloads
Download data is not yet available.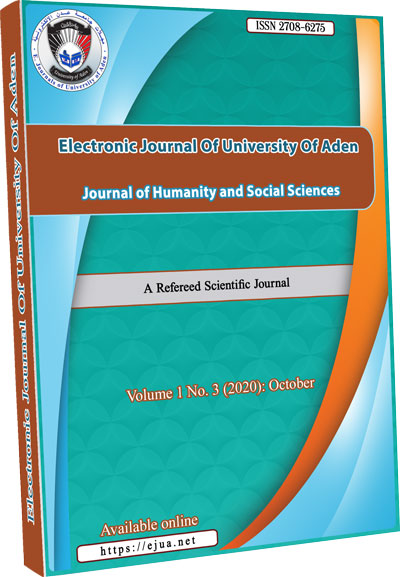 How to Cite
Mohammed, M. S., & Lahmer, A. S. A. (2020). THE ROLE NATURAL RESOURCES IN DEVELOPING THE AREA BETWEEN ARAQAH AND SHUQURAH, ABYAN GOVERNORATE, YEMEN. Electronic Journal of University of Aden for Humanity and Social Sciences, 1(3), 223-235. https://doi.org/10.47372/ejua-hs.2020.3.45
Copyright (c) 2020 Mohammed Salem Mohammed, Ali Sheikh Ali Lahmer
This work is licensed under a Creative Commons Attribution-NonCommercial 4.0 International License.