EVOLVE YEMEN NEWS JOURNALISM FROM THE OLD MEDIA TO THE NEW MEDIA
Redouane Boudjema

Department of Mass Communication Sciences, University of Algiers 3, Algiers, People's Democratic Republic of Algeria

Mohammed Gamal Awed Nasser

Department of Mass Communication Sciences, University of Algiers 3, Algiers, People's Democratic Republic of Algeria

https://orcid.org/0000-0003-4054-227X
Abstract
This study aims to understand the development of media work in Yemen in its relationship to the political, economic and security transformations experienced, as well as to identify the relationship of the Yemeni browser to political crises and their developments from 2003 to 2017, which is the period for the beginning of the shift towards digital journalism and the spread in various classifications. An attempt to reveal the relationship between Yemeni news websites with official and unofficial institutions, whether political, security or economic. The press industry in Yemen is witnessing a fundamental and growing transformation day after day in conjunction with the spread of news sites on the Internet. The number of printed newspaper's readers had decreased with the cost of internet connection, as well as the increase in printing newspapers' cost, which causes financial crises from time to time in press institutions.
Keywords:
Electronic news press, Arab Spring, Yemeni war, Press Charter.
Downloads
Download data is not yet available.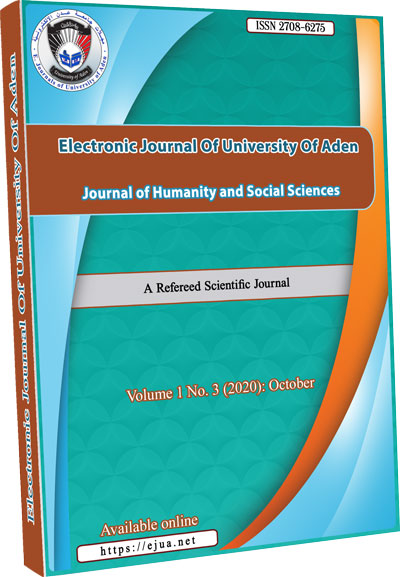 How to Cite
Boudjema, R., & Nasser, M. G. A. (2020). EVOLVE YEMEN NEWS JOURNALISM FROM THE OLD MEDIA TO THE NEW MEDIA. Electronic Journal of University of Aden for Humanity and Social Sciences, 1(3), 236-245. https://doi.org/10.47372/ejua-hs.2020.3.46
Copyright (c) 2020 Redouane Boudjema, Mohammed Gamal Awed Nasser
This work is licensed under a Creative Commons Attribution-NonCommercial 4.0 International License.