SUBAIHI DIALECT EXISTING IN PRE ISLAMIC POETRY
Nora Ali Yslam Sahran

Department of Arabic language, Faculty of Education - Sabr, University of Aden, Aden, Yemen
Abstract
Within my reading for divan of pre-Islamic poetry, I found similar lexical and semantical utterances between it and Subaihi tribes dialect that is one of Yemeni tribes. So I prefer to do this study to explain to the receptor about the scope of relation between the dialect of those tribes and the Arabic language, specifically when I know that a lot of modern linguistic studies avoid Yemeni dialect as it is not Arabic. Abu Amr Ibin Alalaa cited "Hemiar, dialect and far distances in Yemen nowadays not like our tongue and Arabic race, ignoring that many literature poets within pre-Islamic era from Yemeni origins .Then I try to show its meaning in local dialect and compare it with lexical meanings and its interpretation in Lesan Alarab dictionary and divans explanations , also show how it is fit or different with those explanations and interpretations After scanning pre Islamic poetry and tracing the features of Subaihi dialect in it . I meant to elicit the taken words in our life today among Alsubaiha  tribes individual.
Keywords:
The features of Subaihi, Pre-Islamic poetry, A Comparative study.
Downloads
Download data is not yet available.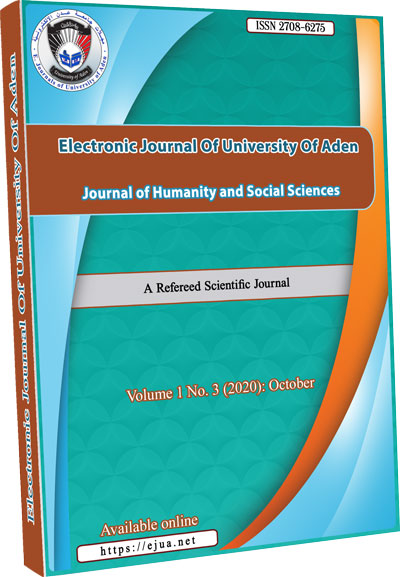 How to Cite
Sahran, N. A. Y. (2020). SUBAIHI DIALECT EXISTING IN PRE ISLAMIC POETRY. Electronic Journal of University of Aden for Humanity and Social Sciences, 1(3), 283-303. https://doi.org/10.47372/ejua-hs.2020.3.49
Copyright (c) 2020 Nora Ali Yslam Sahran
This work is licensed under a Creative Commons Attribution-NonCommercial 4.0 International License.