CATALYTIC CRACKING OF HEAVY OIL OF ALIF FIELD – MARIB- YEMEN
Rokhsana M. Ismail

Chem. Dept., Science Faculty, University of Aden, Aden, Yemen

Nadrah M. Husami

Chemical Engineering Faculty, Hadramout University, Mukalla, Yemen

Sahar Alrifaei

Homs Refinery Company, Homs, Syria
Abstract
The study presents the results of the catalytic cracking process of heavy oil of the Alif – Marib field in Yemen. The best conditions of the process, pressure, temperature, and using zeolite HZSM-5 as catalyst were selected. Based on the characteristics of the heavy oil, the analyses were done using a gas chromatography technique and catalytic cracking unit designed in the laboratory of Chemical Engineering and Petrochemical faculty at Al-Baath University- Syria., refining process was done in Refining Company- Homs. The results of simple distillation of the cracking products at different range of temperature were (Gasoline= 19.5%; Kerosene=15%; Light gas oil= 36%; Distillate residue= 29.5%) and gases (CH4= 67.55 %; C2H4= 14.66 %; C2H6= 7.48 %; H3H8= 9.24%; C4H10=1.06 %).
Extraction by sulfuric acid was done. An 84.044% oil-free aromatic has been gotten. In order to remove total paraffins from the oily cut that has a high pour point, different solvents were used. The properties of the oily cut from which the paraffin wax was removed gave encouraging results.
Keywords:
Catalytic cracking, HZSM-5 zeolite, Extraction, Heavy oil, Gases
Downloads
Download data is not yet available.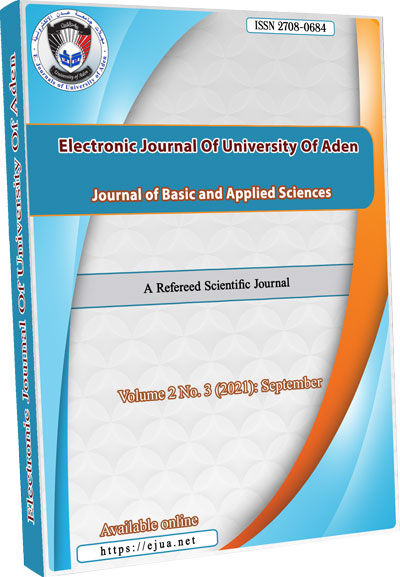 How to Cite
Ismail, R. M., Husami, N. M., & Alrifaei, S. (2021). CATALYTIC CRACKING OF HEAVY OIL OF ALIF FIELD – MARIB- YEMEN. Electronic Journal of University of Aden for Basic and Applied Sciences, 2(3), 103-108. https://doi.org/10.47372/ejua-ba.2021.3.104
Copyright (c) 2021 Rokhsana M. Ismail, Nadrah M. Husami, Sahar Alrifaei
This work is licensed under a Creative Commons Attribution-NonCommercial 4.0 International License.