THE EFFECT OF WET CUPPING THERAPY (AL-HIJAMAH) ON SOME BLOOD COMPONENTS: A COMPARATIVE STUDY
Adel A. M. Saeed

Dept. of Chemistry, Faculty of Science, University of Aden, Aden, Yemen

Wafa F. S. Badulla

Dept. of Pharmaceutical Chemistry, Faculty of Pharmacy, University of Aden, Aden, Yemen

Galal AK. A. Sheikh

Dept. of Chemistry, Dr. Amin Nesher Higher Institute for Health Sciences, Aden, Yemen
Abstract
Cupping therapy (CT), also known as (Al-Hijamah) is one of the therapeutic techniques that were practiced in many countries of the world in ancient times and it is still used now. The current study was aimed to evaluate some components of the venous blood and comparing the results with that in the blood withdrawn during cupping therapy (CT). The method was carried out by taking blood samples from the scarified area that were made during CT on the skin and venous blood samples. Eighteen mostly healthy male participants were selected randomly between ages 25-61 years. About 5 ml of blood samples were collected from the vein and cupping site for each participant and biochemical parameters that are blood glucose, uric acid, and cholesterol were analyzed. All studied parameters were high in the cupping blood in comparison with the venous blood where it was noted that cholesterol, triglycerides (TG), as well as low-density lipoproteins (LDL), were statistically significant at (p<0.001) while high-density lipoproteins (HDL), blood sugar and uric acid were statistically significant at (p=0.01), and urea was statistically significant at (p=0.05), while creatinine did not give statistical significance at (p>0.05). The current study is consistent with other studies. CT helps in reducing some biological parameters that may be related to some metabolic diseases, so it could maintaining human health.
Keywords:
Wet cupping therapy, Biological parameters, Blood glucose, Uric acid, Cholesterol
Downloads
Download data is not yet available.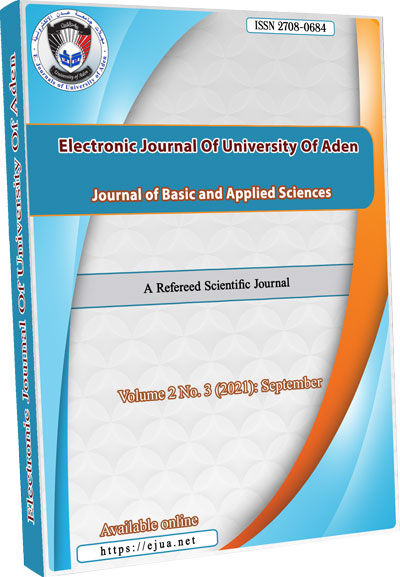 How to Cite
Saeed, A. A. M., Badulla, W. F. S., & Sheikh, G. A. A. (2021). THE EFFECT OF WET CUPPING THERAPY (AL-HIJAMAH) ON SOME BLOOD COMPONENTS: A COMPARATIVE STUDY. Electronic Journal of University of Aden for Basic and Applied Sciences, 2(3), 124-130. https://doi.org/10.47372/ejua-ba.2021.3.106
Copyright (c) 2021 Adel A. M. Saeed, Wafa F. S. Badulla, Galal AK. A. Sheikh
This work is licensed under a Creative Commons Attribution-NonCommercial 4.0 International License.