DETERMINATION OF NICOTINE IN DOMESTIC AND IMPORTED CIGARETTES IN ADEN (YEMEN) MARKETS
Ahmed Thabet Ahmed Alsarahe

Dept. of Chemistry, Faculty of Science, University of Aden, Aden, Yemen

Bassam Nasr Mgammal Sanad

Dept. of Chemistry, Faculty of Education - Yafae, University of Aden, Yafae, Yemen
Abstract
The current study aimed at determining the nicotine content of some domestic and imported cigarettes and comparing the nicotine content among 12 types of familiar cigarettes sold in the markets of Aden Governorate (Yemen) using high-performance liquid chromatography linked with a UV detector, (HPLC-UV). The results of this study showed that the amount of nicotine in each cigarette was from 7.29 to 18.74 mg/g cigarettes with an average of 12.75mg/g cigarettes, in imported cigarettes, and between 11.34 to 17.52 mg/g cigarettes with an average of 14.40 mg/g in domestic cigarettes. Although the amount of nicotine in both domestic and imported cigarettes showed a large variation, but when comparing the averages of local and imported cigarettes, the statistical analysis showed that there were no statistically significant differences between the averages of local and imported cigarettes. The Nicotine content of all tested cigarettes (imported and local brands) was higher than the international standard (1mg/g tobacco).
Keywords:
Nicotine, Cigarettes, Tobacco, HPLC-UV
Downloads
Download data is not yet available.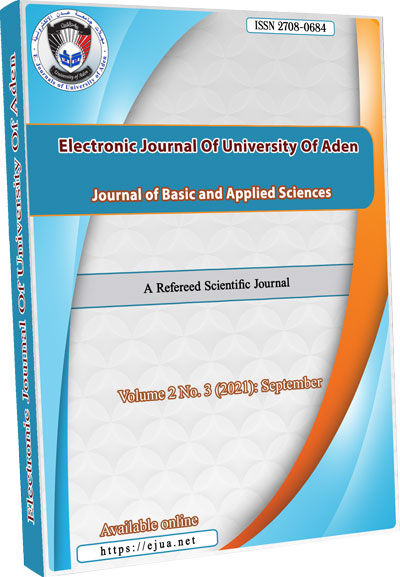 How to Cite
Alsarahe, A. T. A., & Sanad, B. N. M. (2021). DETERMINATION OF NICOTINE IN DOMESTIC AND IMPORTED CIGARETTES IN ADEN (YEMEN) MARKETS. Electronic Journal of University of Aden for Basic and Applied Sciences, 2(3), 131-138. https://doi.org/10.47372/ejua-ba.2021.3.107
Copyright (c) 2021 Ahmed Thabet Ahmed Alsarahe, Bassam Nasr Mgammal Sanad
This work is licensed under a Creative Commons Attribution-NonCommercial 4.0 International License.