THE PREVALENCE OF VULVOVAGINAL CANDIDIASIS (VVC) AMONG WOMEN SUFFERING VAGINITIS ATTENDED A PRIVATE GYNECOLOGICAL CLINIC, ADEN-YEMEN
Adel Jumaan Binsaad

Dept. of Microbiology and Parasitology, Faculty of Medicine, University of Aden

Nazeh Al-Abd

Dept. of Microbiology and Parasitology, Faculty of Medicine, University of Aden

https://orcid.org/0000-0002-7882-6633
Abstract
The study was carried out to determine the prevalence of vulvovaginal candidiasis among women suffering vaginitis. This prospective cross-sectional study was conducted among 120 women between the age of 15 to 45 years (mean age 39 years), attended a private gynecological clinic in Aden with symptoms of vaginitis between January and June 2019. A questionnaire was used to obtain information on the participants' sociodemographic data and medical history. Direct microscopic examination (10% KOH), culture on SDA, germ tube test and gram staining were used to determine the prevalence of vulvovaginal candidiasis and to differentiate between C.albicans and non-albicans species. Out of 120 women, 25 (20.8%) were diagnosed with vulvovaginal candidiasis (VVC) and 95 (79.2%) with non-candidal vaginitis. C.albicans was the most prevalent with a prevalence rate of 17.5%. Although not statistically significant, vulvovaginal candidiasis tended to be more prevalent among women with 25-34 years. No statistically significant association between the prevalence of vulvovaginal candidiasis and educational level and marital status. Vulvovaginal candidiasis (VVC) was slightly high in Aden and Candida albicans was the most common causative agent of VVC. In the clinical diagnosis of VVC, both clinical criteria and microbiological tests must be used. Further study is needed to find out the prevalence of RVVC among women in the Aden governorate.
Keywords:
Vulvovaginal candidiasis, Prevalence, Candida albicans, Antifungals, Private gynecological clinic, Aden
Downloads
Download data is not yet available.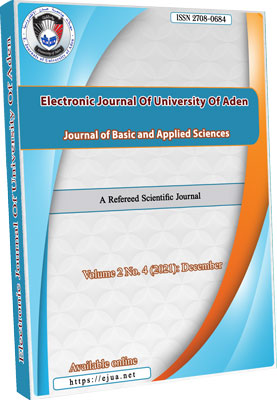 How to Cite
Binsaad, A. J., & Al-Abd, N. (2021). THE PREVALENCE OF VULVOVAGINAL CANDIDIASIS (VVC) AMONG WOMEN SUFFERING VAGINITIS ATTENDED A PRIVATE GYNECOLOGICAL CLINIC, ADEN-YEMEN. Electronic Journal of University of Aden for Basic and Applied Sciences, 2(4), 169-175. https://doi.org/10.47372/ejua-ba.2021.4.125
Copyright (c) 2021 Adel Jumaan Binsaad, Nazeh Al-Abd
This work is licensed under a Creative Commons Attribution-NonCommercial 4.0 International License.