STUDY OF SOME ORGANIC COMPOUNDS IN PLASTIC TOYS AVAILABLE IN ADEN-YEMEN
Adel A. M. Saeed

Chemistry Dept., Faculty of Science, University of Aden, Yemen

https://orcid.org/0000-0002-1154-2994

Sami Z. M. Saeed

Chemistry Dept., Faculty of Education - Abyan, University of Abyan, Yemen

Ahmed M. H. Saeedan

Chemistry Dept., Faculty of Education - Aden, University of Aden, Yemen
Abstract
The current study focused on the detection and determination of some organic compounds that may be found in plastic toys available in Aden. The measurement process was done by a gas chromatography technique linked with a mass spectrometer. The descriptive analysis of organic compounds in studied samples showed the presence of Di-n-octyl Phthalate (DnOP) in one sample only and the concentration was with preassemble level. Other organic compounds were detected too in plastic toys.
Keywords:
Plastic toys, Organic compounds analysis, Phthalates compounds, Gas chromatography - Mass spectroscopy
Downloads
Download data is not yet available.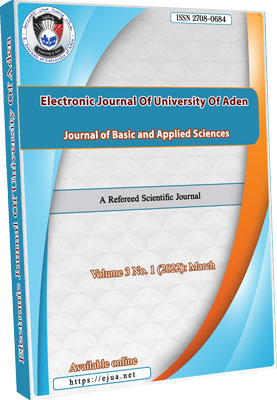 How to Cite
Saeed, A. A. M., Saeed, S. Z. M., & Saeedan, A. M. H. (2022). STUDY OF SOME ORGANIC COMPOUNDS IN PLASTIC TOYS AVAILABLE IN ADEN-YEMEN. Electronic Journal of University of Aden for Basic and Applied Sciences, 3(1), 41-47. https://doi.org/10.47372/ejua-ba.2022.1.144
Copyright (c) 2022 Adel A. M. Saeed, Sami Z. M. Saeed, Ahmed M. H. Saeedan
This work is licensed under a Creative Commons Attribution-NonCommercial 4.0 International License.