DERMATOPHYTOSIS: ETIOLOGICAL AGENTS AND ASSOCIATED RISK FACTORS
Salwa A. Y. Alolofi

Dept. of Microbiology and Molecular Biology, Faculty of Science and Technology, Al-Neelain University, Khartoum State, Sudan

Sanaa O. Yagoub

Dept. of Microbiology and Molecular Biology, Faculty of Science and Technology, Al-Neelain University, Khartoum State, Sudan

A. H. Nimir

Dept. of Microbiology, Faculty of Veterinary Medicine, Khartoum University, Sudan
Abstract
Dermatophytes are fungi that grow and multiply in keratinized tissues (skin, hair and nails) causing infections that are commonly referred to as "Tinea" or "ring-worm". This study was aimed to identify the dermatophytes that commonly isolated from dermatophytoses patients and to study the relationship between dermatophytosis and the risk factors that might associated with dermatophytoses patients in Khartoum State, Sudan. Three hundred samples were collected from patients who were apparently suffering from dermatophytoses. Patients were questionnaired pertaining to age, sex, family history, animal contact, residence, type of infection, season. From the collected specimens, 180 (60%) of cases were positive for isolating of dermatophytes. Tinea corporis was the most common type of dermatophytoses. The sequence of effect factors among patients were shown that : age (11-20), sex (males), chronicity of infection, summer season, animal contact and rural residence were the most parameters that increased the occurrence of the dermatophytoses.
Keywords:
Dermatophyte, Tinea, Risk factors of dermatophytoses, Sudan
Downloads
Download data is not yet available.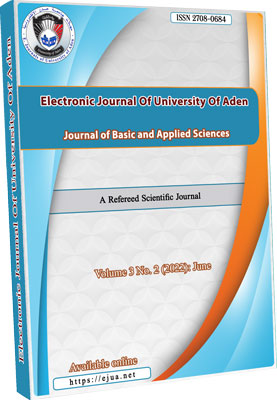 How to Cite
Alolofi, S. A. Y., Yagoub, S. O., & Nimir, A. H. (2022). DERMATOPHYTOSIS: ETIOLOGICAL AGENTS AND ASSOCIATED RISK FACTORS. Electronic Journal of University of Aden for Basic and Applied Sciences, 3(2), 57-65. https://doi.org/10.47372/ejua-ba.2022.2.153
Copyright (c) 2022 Salwa A. Y. Alolofi, Sanaa O. Yagoub, A. H. Nimir
This work is licensed under a Creative Commons Attribution-NonCommercial 4.0 International License.