A NEW RECORD OF THE COCHINEAL INSECT (DACTYLOPIUS OPUNTIAE) ON THE PRICKLY PEAR (OPUNTIA DELLENII) IN YEMEN - TUR AL BAHA - LAHJ
Abdullah N. Al-Hindi

General Department of Biodiversity and Natural Resources - for Environmental Protection Authority

https://orcid.org/0000-0002-3827-0124

Othman S. Al-Hawshabi

Gamal M. Bawazer

General Department of Biodiversity and Natural Resources - for Environmental Protection Authority

Salem M. Busais

General Department of Biodiversity and Natural Resources - for Environmental Protection Authority

Omar A. Baeshen

General Department of Biodiversity and Natural Resources - for Environmental Protection Authority

Mohammed S. Al Khasha

Agricultural Research Station/ Al-Kood

Abdul-Qader Bin-Othman

Agricultural Research Station/ Al-Kood

Wathiq Awlaki

Agricultural Research Station/ Al-Kood

Ismail Hassan

Environmental Protection Authority/ Lahj

Faris Metwally

Environmental Protection Authority/ Lahj
Abstract
Yemen is very rich in biodiversity, and there are special signs of particular importance, and among these places Tur Al-Baha District is one of the most important areas in the southwestern Yemen and the Arabian Peninsula. It has a high vegetation cover, containing 560 plant species belonging to 288 genera, related to 89 families. These species are distinguished by the diversity of succulent plants that include 68 species, most of which are endemic. In addition, many new species have been described from the area (eg., Ceropegia splendior, Ceropegia seminude and Aloe niebuhriana). This study aimed to survey and document the distribution of the invasive alien insect (Invasive Alien Species), and its effects on the prickly pear plants Opuntia dellenii in the district of Tur Al Baha, and the extent of its impact on the rest of the vegetation cover. Field visits were conducted to eight different sites in the district of Tur Al Baha. Samples of the invasive alien insect were collected during the month of September 2021, and placed in plastic containers containing 70% ethanol and examined in the laboratories of the Science Teacher Department, College of Education, University of Aden, and the laboratories of the Prevention Department at the Al-Kood Agricultural Research Station for the purpose of classification of the insect by the specialists. The results showed that the invasive alien insect is the cochineal insect belonging to the species Dactylopius opuntiae of the family Dactylopiidae, which belongs to the order Hemiptera, and the damage of this insect is confined only to the prickly pear, and did not exceed the rest of other plants. With this result, this study is the first official record of the entry of cochineal to Yemen.
Keywords:
Cochineal insect, Prickly pear, Tur Al Baha district, Lahj, Yemen
Downloads
Download data is not yet available.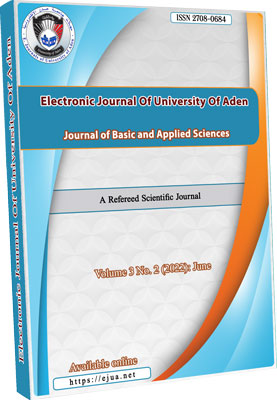 How to Cite
Al-Hindi, A. N., Al-Hawshabi, O. S., Bawazer, G. M., Busais, S. M., Baeshen, O. A., Al Khasha, M. S., Bin-Othman, A.-Q., Awlaki, W., Hassan, I., & Metwally, F. (2022). A NEW RECORD OF THE COCHINEAL INSECT (DACTYLOPIUS OPUNTIAE) ON THE PRICKLY PEAR (OPUNTIA DELLENII) IN YEMEN - TUR AL BAHA - LAHJ. Electronic Journal of University of Aden for Basic and Applied Sciences, 3(2), 66-74. https://doi.org/10.47372/ejua-ba.2022.2.154
Copyright (c) 2022 Abdullah N. Al-Hindi, Othman S. Al-Hawshabi, Gamal M. Bawazer, Salem M. Busais, Omar A. Baeshen, Mohammed S. Al Khasha, Abdul-Qader Bin-Othman, Wathiq Awlaki, Ismail Hassan, Faris Metwally
This work is licensed under a Creative Commons Attribution-NonCommercial 4.0 International License.