A STUDY ON THE DEFLUORIDATION FROM WATER BY USING LOCAL LIMESTONE
Shaif Mohammed Kasem Saleh

Dept. of Chemistry, Faculty of Science, University of Aden, Yemen

Radhwan Mohammed Saleh

Dept. of Chemistry, Faculty of Education-Saber, University of Lahj, Yemen

Amal Hasen

Dept. of Chemistry, Faculty of Education-Saber, University of Lahj, Yemen
Abstract
Removal of excess fluoride [F-] from the water has been attempted by several authors by using different materials both natural and artificial. The main aim of this study was to the fluoride removal by using the local limestone adopting column method. The use of limestone obtained from the National Company of Cement (NCC) at Wadi Saim deposit and Wadi Nakhleen deposit, in Lahj Governorate, Yemen. X-ray spectroscopy analyses revealed that that limestone are classified as high and very high pure limestone, respectively. Local limestone has fluoride removal abilities by phosphoric acid (PA)- local crushed Limestone treatment (PACLT), with the treated water conforming to WHO guidelines for Fluoride in drinking water. Fluoride removal and pH of treated water attained stability within 3ℎ for defluoridation from 10 mg/L [F-], to 0.20 mg/L with 0.68 mM [PA]. The results may be useful for suitability of local limestone for fluoride removal from drinking water.
Keywords:
Fluoride removal of water, Local limestone, Phosphoric acid, Lahj, Yemen
Downloads
Download data is not yet available.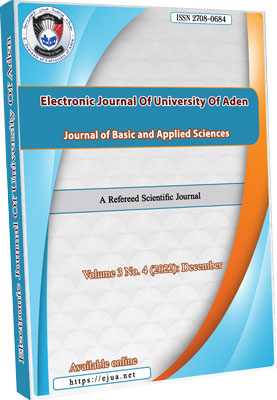 How to Cite
Saleh, S. M. K., Saleh, R. M., & Hasen, A. (2022). A STUDY ON THE DEFLUORIDATION FROM WATER BY USING LOCAL LIMESTONE. Electronic Journal of University of Aden for Basic and Applied Sciences, 3(4), 276-283. https://doi.org/10.47372/ejua-ba.2022.4.196
Copyright (c) 2023 Shaif Mohammed Kasem Saleh, Radhwan Mohammed Saleh, Amal Hasen
This work is licensed under a Creative Commons Attribution-NonCommercial 4.0 International License.