MORPHOLOGICAL CHARACTERISTICS FOR THREE GENERA OF MALVACEAE SENSU LATO IN TOOR AL-BAHA DISTRICT, LAHEJ GOVERNORATE, YEMEN
Nora Mohammed Al-Saqaf Mohammed

Biology Dept., Faculty of Education – Zingabar, Abyan University, Yemen

Othman Saad Saeed Al-Hawshabi

Biology Dept., Faculty of Science, Aden University, Yemen

https://orcid.org/0000-0002-9680-0330
Abstract
The current study presents morphological characteristics of the three genera, that belong to the family Malvaceae s.l., in Toor Al-Baha district, Lahej Governorate, Yemen, from August 2020 to January 2022, an introductory order deals with the most significant features, synonyms, local names, distribution in the study area, in addition to an identification key for separation between of three genera in the studied area, and up-to-date nomenclature for all studied taxa are presented, by using the modern classification of Malvaceae which referred to sub-family is Malvoideae, within family Malvaceae s.l. The present study a revision of the morphological characteristics of three species grow native in the studied area are (Cienfuegosia welshii, Gossypium arboreum and Senra incana), The vegetative and reproductive morphological characteristics proved that they are with high values in distinguishing between them.
Keywords:
Morphological characteristics, Malvaceae s.l., Sub-families, Genera, Species, Toor Al-Baha, Lahej, Yemen
Downloads
Download data is not yet available.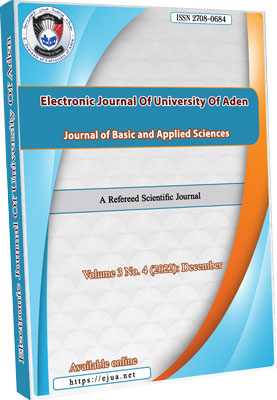 How to Cite
Mohammed, N. M. A.-S., & Al-Hawshabi, O. S. S. (2022). MORPHOLOGICAL CHARACTERISTICS FOR THREE GENERA OF MALVACEAE SENSU LATO IN TOOR AL-BAHA DISTRICT, LAHEJ GOVERNORATE, YEMEN. Electronic Journal of University of Aden for Basic and Applied Sciences, 3(4), 284-291. https://doi.org/10.47372/ejua-ba.2022.4.197
Copyright (c) 2023 Nora Mohammed Al-Saqaf Mohammed, Othman Saad Saeed Al-Hawshabi
This work is licensed under a Creative Commons Attribution-NonCommercial 4.0 International License.