PREMATURE ONSET OF STROKE IN KHAT CHEWERS IN ADMITTED CASES TO ADEN HOSPITALS
Reyad Mohamed A. Al-sobehi

Dept. of Internal Medicine, Faculty of Medicine and Health Science, University of Aden, Yemen

Omer Abobeker Basselm

Dept. of Internal Medicine, Faculty of Medicine and Health Science, University of Aden, Yemen
Abstract
Khat chewing is a common habit in Yemen and east African countries. Millions of people chew khat especially young adult male chew khat leaves daily for its euphoric and energetic effects and for the increase of alertness due to action of cathinone (amphetamine like substance) which lead to increase of blood pressure, heart rate and incidence of AMI. Khat use is widespread in some parts of Yemen, even among children. The prevalence of khat chewing has been estimated at 80% for males and 50% for females in the capital Sana'a at age fifteen and above. The aim of the study was done to earlier sage onset of stroke in khat chewing with relation to other risk factors of stroke. This study was conducted during the period from January 2022 to Jun. 2022, during which 150 patients admitted with stroke. The basic information was collected through special questionnaires for this purpose. The khat chewing group was 83 case compromised 55.3%. The study showed that there was a statistically significant relationship between khat chewing and the age group of less than 55 years age (P - 0.000).
Keywords:
Khat chewing, Stroke amphetamine
Downloads
Download data is not yet available.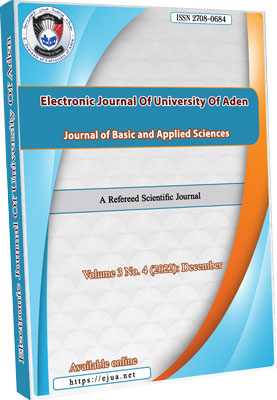 How to Cite
Al-sobehi, R. M. A., & Basselm, O. A. (2022). PREMATURE ONSET OF STROKE IN KHAT CHEWERS IN ADMITTED CASES TO ADEN HOSPITALS. Electronic Journal of University of Aden for Basic and Applied Sciences, 3(4), 292-295. https://doi.org/10.47372/ejua-ba.2022.4.198
Copyright (c) 2023 Reyad Mohamed A. Al-sobehi, Omer Abobeker Basselm
This work is licensed under a Creative Commons Attribution-NonCommercial 4.0 International License.