PREVALENCE OF SCABIES CASES IN TWO PUBLIC HOSPITALS ADEN / YEMEN
Ekram Ali Badwi

Dept. of Dermatology & Venereology, Faculty of Medicine and Health Sciences, University of Aden, Yemen

Seena Abdulla Yousuf

Dept. of Community Medicine & Public Health, Faculty of Medicine and Health Sciences, University of Aden, Yemen
Abstract
Scabies has become a major public health problem, especially in low resource settings. In this area no previous study regarding scabies prevalence and associated risk factors have been conducted. Therefore, this study was carried. The aim of this study to provide data on the position of scabies with regard to prevalence and the factors related to it and to recommended measures for prevention and control of infestation. A cross-sectional study carried out over a period of 6 months from 1 January to 30 June 2022 in dermatology outpatient clinic of two main teaching hospitals Al-Gamhoria and Al-Wahda, in Aden Government. Out of total of 2575 patients examined, 90 had scabies (3.4%) with highest prevalence rate in children aged 8- 15 years (27.8%). The infection was higher in males than females (57.8 % vs 42.2 %). The present study concludes that poor socio-economic conditions, such as illiteracy, overcrowding and sharing room, joblessness have a statistically significant relation with scabies. In addition, to family history of itchy skin lesions.
Keywords:
Scabies, Prevalence, Socio–economic, Aden
Downloads
Download data is not yet available.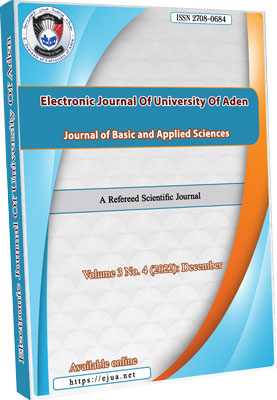 How to Cite
Badwi, E. A., & Yousuf, S. A. (2022). PREVALENCE OF SCABIES CASES IN TWO PUBLIC HOSPITALS ADEN / YEMEN. Electronic Journal of University of Aden for Basic and Applied Sciences, 3(4), 304-312. https://doi.org/10.47372/ejua-ba.2022.4.200
Copyright (c) 2023 Ekram Ali Badwi, Seena Abdulla Yousuf
This work is licensed under a Creative Commons Attribution-NonCommercial 4.0 International License.