VEGETATION MAPPING AND DEVELOPMENT OF A METHOD FOR THE VEGETATION TYPIFICATION IN THE ARABIAN PENINSULA
Abdul Wali A. Al-Khulaidi

Dept. of Biology, College of Science and Arts, Baljurashi, Albaha University (BU), Saudi Arabia

Ali A. Al-Namazi

King Abdulaziz City for Science and Technology (KACST), P.O. Box 6086, Riyadh 11442, Saudi Arabia
Abstract
The study aims to generate vegetation mapping for the study area's existing vegetation and apply a vegetation typification approach that can be used to identify the vegetation structure of any region in the Arabian Peninsula. To highlight the plant diversity and the vegetation communities for nature conservation purposes, a case study in Albaha region, Saudi Arabia is presented, in which the natural vegetation communities and vegetation types of one of the Important Plant Species Areas (IPSA) of Saudi Arabia is evaluated. In an area of 167.6 km2, 97 samples, each with 20X20 m were laid out covering the whole ecological zones of the study area. Data on flora, vegetation cover and topography were gathered from each sample site using Braun-Blanquet method. ITC approach of vegetation typification according to three dimensions (trees, shrubs, and herbs) is applied to identify the structures of each vegetation type. The results showed 319 plant species belonging to 228 genera and 75 families. These species were analyzed and classified into three plant communities and 14 different vegetation types using multivariate analysis program (MVSP) software. Using the percentage of trees, shrubs and herbs, the three-dimensional graphics of vegetation structure presented in this study can be used to determine the vegetation structure of any region in the Arabian Peninsula.
Keywords:
IPSA, Vegetation community, Vegetation type, Vegetation mapping, Saudi Arabia, Vegetation typification
Downloads
Download data is not yet available.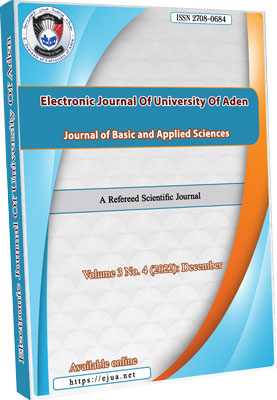 How to Cite
Al-Khulaidi, A. W. A., & Al-Namazi, A. A. (2022). VEGETATION MAPPING AND DEVELOPMENT OF A METHOD FOR THE VEGETATION TYPIFICATION IN THE ARABIAN PENINSULA. Electronic Journal of University of Aden for Basic and Applied Sciences, 3(4), 327-338. https://doi.org/10.47372/ejua-ba.2022.4.203
Copyright (c) 2023 Abdul Wali A. Al-Khulaidi, Ali A. Al-Namazi
This work is licensed under a Creative Commons Attribution-NonCommercial 4.0 International License.