DEMOGRAPHIC CHARACTERISTICS AND ASSOCIATED DISORDERS OF CATARACT PATIENTS ATTENDED MAKKAH HOSPITAL IN ADEN, YEMEN
Ibtihal Aidroos Zain Gaffer

Dept. of Special Surgery, Eye Unit, Faculty of Medicine, University of Aden, Yemen

Reem Alkhader Saleh

Dept. of Special Surgery, Eye Unit, Faculty of Medicine, University of Aden, Yemen
Abstract
The objective is to determine the demographic characteristics, and the proportion of associated factors of cataract. This was a hospital based cross-sectional study among adult patients attending Makkah hospital in Aden. We obtained all demographic and associated factors of cataract. SPSS 17 version was used. All variables were compared according to the sex and age groups. Variables were expressed as the mean ± standard deviation. Chi-square analysis was used. A P-value of less than 0.05 was considered statistically significant. The study patients were 186 cataract patients, (Females were 51.1% and males were 49.9%). The age of the patients ranged between 25 to 92 years and the mean age was 61.1 ±11.1 years. The majority patients (82.8%) were of the age group > 50 years. Most of the patients were from urban 56.5%. About (15.6%) cataract patients were smokers. Most of smokers were males 12.9%. One hundred and eleven (59.7%) of the patients gave history of exposure to sunlight, (p = 0.000). Housewives represented (39.2%), (p=0.000). About (14.7%) of the patients were diabetic. Cataract is the commonest cause of visual impairment worldwide and though it affects all age groups. It is more prevalent among people aged 50 years and more. Old age patients from urban and rural areas are the most commonly affected by cataract.
Keywords:
Characteristics, Cataract patients, Makkah hospital, Aden
Downloads
Download data is not yet available.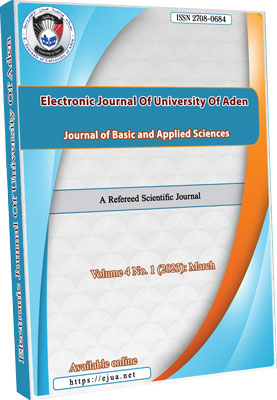 How to Cite
Gaffer, I. A. Z., & Saleh, R. A. (2023). DEMOGRAPHIC CHARACTERISTICS AND ASSOCIATED DISORDERS OF CATARACT PATIENTS ATTENDED MAKKAH HOSPITAL IN ADEN, YEMEN. Electronic Journal of University of Aden for Basic and Applied Sciences, 4(1), 31-38. https://doi.org/10.47372/ejua-ba.2023.1.218
Copyright (c) 2023 Ibtihal Aidroos Zain Gaffer and Reem Alkhader Saleh
This work is licensed under a Creative Commons Attribution-NonCommercial 4.0 International License.