MORPHOMETRIC, MERISTIC AND AGE OF AL-NAQIM POMADASYS ARGENTEUS (FORSSKAL, 1775) FAMILY: HAEMULIDAE FROM COASTS OF ADEN GOVERNORATE - YEMEN
Eshrak Abdulqader AL-Nawi

Dept. of Biology, Faculty of Education, Aden University, Yemen

Kamal Ahmed Baaoom

Dept. of Biology, Faculty of Science, Hadhramout University, Yemen

Taha Saleh Salem

Dept. of Biology, Faculty of Education, Shabwah University, Yemen
Abstract
Morphometric and Meristic of AL- Naqim Pomadasys argenteus from Coasts of the Gulf of Aden was studied from July 2021 to June 2022. A total of 223 samples of AL- Naqim were collected total length ranged from 18 - 47 cm, with weight of 85 - 1230 g. Twenty morphometric (Total length, Fork length, Standard length, Head length, Head depth, Eye diameter, Pre orbital length, Body depth, Pre dorsal length, Dorsal fin length, Pre pectoral length, Pectoral fin length, Pre pelvic length, Ventral fin length, Pre anal length, Anal fin length, Caudal fin length, Caudal fin height, Caudal peduncle length and Caudal peduncle depth) and nine meristic characters (Dorsal fin spines, Dorsal fin rays, Anal fin spines, Anal fine rays, Pectoral fin rays, Pelvic fin spines, Ventral fin rays and Gill rakers) ware investigated in detail, The morphometric measurements were dependent on body size. There is a gradual increase in morphometric measurements with an increase in body length. Regression analyses were performed between the independent variable total length and the dependent variables, as well as between the independent variable head length and the dependent variable "eye diameter and pre orbital length". The results showed that there was apositive linear relationship between various morphometric measurements and total length as well as head length with a medium to a high degree of correlation. On the other hand the fish showed with the increase in body length, the fin formula can be written as D XII, 14; A- III, 7; P 16 - 17; V I, 5; C 17, and the number gill rakers (0.06 ± 17.5). Total length – weight relationship of Pomadasys argenteus was W = 0.015 TL2.8475 , R2 = 0.9813. The age composition was ranged from (0- 7) years.
Keywords:
Morphometric, Age, Pomadasys argenteus, Scale, The gulf of Aden
Downloads
Download data is not yet available.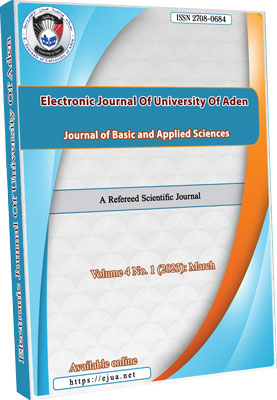 How to Cite
AL-Nawi, E. A., Baaoom, K. A., & Salem, T. S. (2023). MORPHOMETRIC, MERISTIC AND AGE OF AL-NAQIM POMADASYS ARGENTEUS (FORSSKAL, 1775) FAMILY: HAEMULIDAE FROM COASTS OF ADEN GOVERNORATE - YEMEN. Electronic Journal of University of Aden for Basic and Applied Sciences, 4(1), 39-51. https://doi.org/10.47372/ejua-ba.2023.1.219
Copyright (c) 2023 Eshrak Abdulqader AL-Nawi, Kamal Ahmed Baaoom and Taha Saleh Salem
This work is licensed under a Creative Commons Attribution-NonCommercial 4.0 International License.