DISTRIBUTION OF LIZARDS IN ABYAN GOVERNORATE, YEMEN
Salem M. Busais

Dept. of Biology, Faculty of Education, University of Aden, Yemen

https://orcid.org/0000-0001-5785-9850

Wafa A. Abo-Alib

Dept. of Biology, Faculty of Education, University of Abyan, Yemen

Hasan M. Alrahowi

Dept. of Biology, Faculty of Education, University of Abyan, Yemen
Abstract
This study provides the occurrence and distribution of lizards in Abyan governorate to establish a database for future studies. Two hundred and two specimens were collected through field trips that were carried out from July 2018 to July 2019. The types of squamous reptiles belonging to the suborder of Sauria were identified. The specimens were kept in the Biology Laboratory of the Faculty of Education/ Zinjebar - University of Abyan. A museum number with the symbol LBZC was given. The results reveal that 24 species of lizards that occur in Abyan governorate belong to eight families. A map of the spread of these species in the governorate was also developed.
Keywords:
Distribution, Lizards, Abyan governorate, Yemen
Downloads
Download data is not yet available.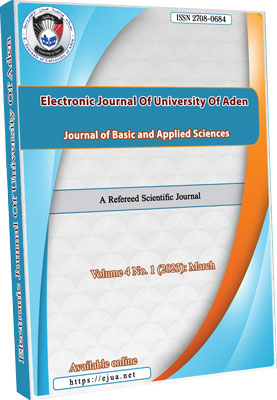 How to Cite
Busais, S. M., Abo-Alib, W. A., & Alrahowi, H. M. (2023). DISTRIBUTION OF LIZARDS IN ABYAN GOVERNORATE, YEMEN. Electronic Journal of University of Aden for Basic and Applied Sciences, 4(1), 52-65. https://doi.org/10.47372/ejua-ba.2023.1.220
Copyright (c) 2023 Salem M. Busais, Wafa A. Abo-Alib and Hasan M. Alrahowi
This work is licensed under a Creative Commons Attribution-NonCommercial 4.0 International License.