STIPAGROSTIS XYLOSA COPE (TRIBE ARISTIDEAE, ARISTIDOIDEAE, POACEAE) A NEW DISTRIBUTION AND ADDITION TO THE FLORA OF ADEN, YEMEN
Abeer Ali Saeed

Dept. of Biology, Faculty of Education - Aden, University of Aden, Yemen

Abdul-Nasser Al-Gifri

Dept. of Biology, Faculty of Education - Aden, University of Aden, Yemen

https://orcid.org/0000-0003-3204-7105
Abstract
During the field trips between September –October 2022 after the good rainfall, have revealed to good collection and one remarkable very rare species Stipagrostis xylosa Cope tribe Aristideae (subfam. Aristidoideae, family Poaceae) is described as a new distribution of species to the flora of Aden. Morphological description and photograph of the species are provided.
Keywords:
Flora, New distribution, Aden, Poaceae
Downloads
Download data is not yet available.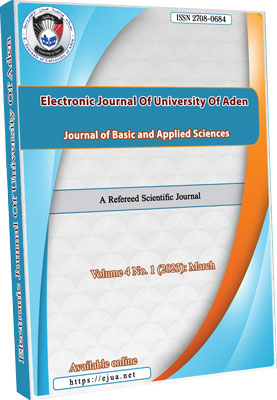 How to Cite
Saeed, A. A., & Al-Gifri, A.-N. (2023). STIPAGROSTIS XYLOSA COPE (TRIBE ARISTIDEAE, ARISTIDOIDEAE, POACEAE) A NEW DISTRIBUTION AND ADDITION TO THE FLORA OF ADEN, YEMEN. Electronic Journal of University of Aden for Basic and Applied Sciences, 4(1), 79-83. https://doi.org/10.47372/ejua-ba.2023.1.223
Copyright (c) 2023 Abeer Ali Saeed and Abdul Nasser Al-Gifri
This work is licensed under a Creative Commons Attribution-NonCommercial 4.0 International License.